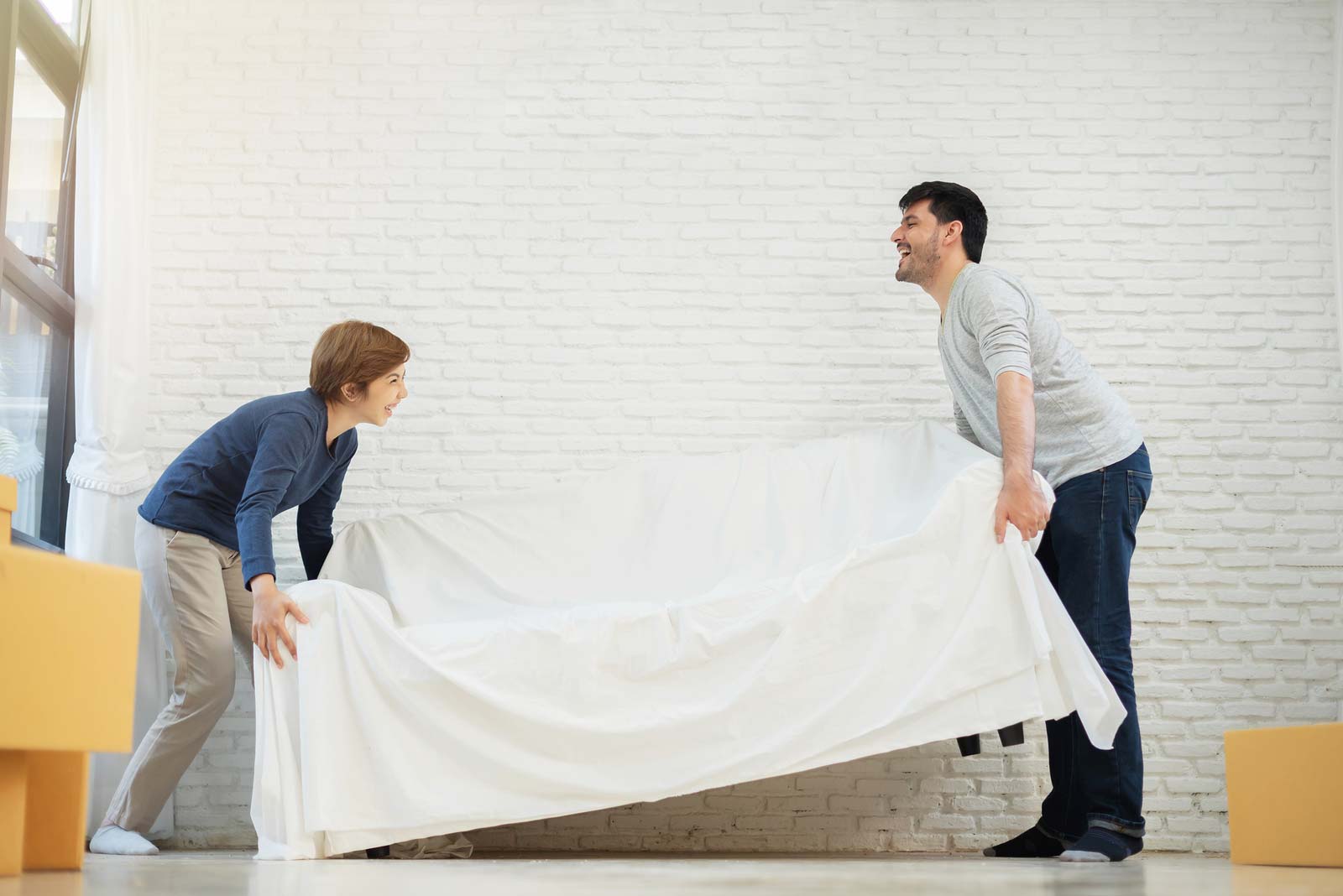 How to Prepare a Couch for Storage
In your home or apartment, your couch is often the focal point for your décor. It is also a comfy place to kick your feet up after a long day. Storing a couch short term or long term may not seem complicated, but if you want to preserve the fabric, material, and structure, it's important to know how to store a couch in self storage correctly.
Learn how to prepare your couch, store it, and preserve it for future use with these couch storage tips.
Make sure your couch or sofa is in prime condition before, during, and after storage by preparing the unit for a temporary or not-so-temporary stay in a self storage unit.
Start With a Clean Surface: Since couches are often used frequently, spend ample time cleaning the piece before determining how to store a couch in self storage. Begin by vacuuming the entire surface, as well as the cushions. Next, wipe down the non-fabric areas and sofa feet. Finally, use a steam vacuum or a mild detergent and a microfiber cloth to wipe down the couch, cushions, and back of the furniture piece. For tough stains, spot clean using a mixture of vinegar and water or a commercial-grade cleaner.

Measure the Couch: Once the couch is clean and dry, measure the unit to determine the best way to not only proceed with storing a couch, but also in determining how much wrap or covering you need. Don't forget to measure all exit points, including bulky arms and the sofa feet. Measuring not only helps you to determine the type of storage space you will need, but it also alerts you if you need to remove door hinges to move the piece of furniture out of your home.

Completely Cover Your Couch: While many people use shrink wrap to prepare a couch for self storage, if stored for more than six months, plastic wrap may promote a build up of moisture. Instead, consider wrapping your couch in soft blankets secured with bungee cords or packing strips.

Begin the Move Safely: Storing a couch requires careful planning. It's important that you are moving the piece with care to avoid damaging the couch itself or walls in your home. When using a moving truck, place the couch directly against the back wall and secure the sofa by tying it down to avoid any movement during transit.

Load Into the Storage Unit: Couch storage tips are only helpful if you load your sofa the right way once you arrive at your self storage unit. Begin by covering the floors with a tarp and then store the couch in its original position. While you may want to maximize your space by storing the couch upright, doing so could result in damage to the coils, cushions, and inner workings of the couch.

Allow for Air Flow: Avoid placing your couch right up against an exterior wall in a self storage unit. Instead, allow for at least 10 centimeters from a wall so the couch fabric can breathe while in storage.

Resist the Urge to Stack: Boxes are perfect for stacking on top of one another, but when determining how to store a couch in self storage, remember that stacking is not recommended. Resist the urge to put boxes or appliances on top of your couch or the cushions. Heavy items could damage the fabric and the cushions.
The Benefits of a Climate Controlled Self Storage Unit
If you thoroughly prepare your couch for storage, you can maintain its condition for future use. However, you can also help to preserve the couch's fabric and structure by selecting a climate controlled self storage unit. Here are the benefits:
Less exposure to extreme cold or hot temperatures

Reduces the risk of moisture buildup, which can cause musty odors and mildew

Helps maintain a like-new appearance for your furnishings
Selecting a Storage Unit with StorageMart
When considering how to store a couch in self storage, know that the steps you take to safeguard your furniture can make a difference. When renting a self storage unit with StorageMart, know that each facility offers spacious options and our staff is ready to assist you in finding a temporary or permanent home for your prized possessions. Find a StorageMart location in the United States, the United Kingdom, or Canada, and reserve a unit online today.
FIND A FACILITY NEAR YOU!
Not sure what size you need? Try our storage size guide.
Exclusive discounts when you reserve online
Still have questions? Check out our FAQs.
Learn self storage tips from the experts at StorageMart
Read this helpful guide from StorageMart to improve your quality of life with self storage.