There's a small idea making waves in the housing industry based on the idea that less is more – welcome to the world of the tiny house.
"Most of the space in my place I was just walking through," said Lawrence Thomas, describing the 2,200 square foot home he once owned. He downsized to an 850 square foot rental but still wondered what he could do to "bring it down more."
Tiny houses are typically 64 square feet to 774 square feet, and some environmentalists and enthusiasts say that they're the solution to housing problems. For some, tiny houses are a way to save money. Smaller houses mean smaller mortgages, small heating bills, and small storage. But for Thomas, it's more about a simpler lifestyle.
His next address will be "144 Wherever I Am," a reference to the 144-square-foot house he's building at the StorageMart location in Jefferson City, MO. He'll be living in about six percent of the average American home's footprint, which is 2,400 square feet.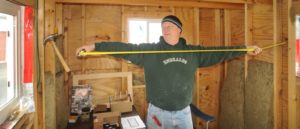 "That's one reason I won't have a microwave oven. It just doesn't fit in the spirit of cooking, it's cheating. I hope to have my main kitchen outside, where I can take time and cook," Lawrence said. "People ask me, 'How are you going to live in it?", I tell them I'm not – I'm going to live outside it."
Lawrence and his friends have been building the home, which is based on a trailer frame, hours at a time. He bought an unfinished house that he found on Craigslist in Iowa and towed it back to Jefferson City. "How does it pull? Well, it pulls like a house," Lawrence joked. Despite the homes wheels, its trips are numbered. "I'll borrow a truck to move to it to a semi-permanent location until it moves to a permanent place locally until I retire, when I'll move it to Michigan's northern peninsula. It's beautiful up there," Lawrence said.
Because the home is on wheels, housing codes don't hinder its construction. He'll use LED lighting to save electricity though he hopes to be more self-sufficient by adding solar panels in the future.
"When I was young, my sister always made fun of me for making forts with my friends," Lawrence said. "Now my sister says I'm building a really nice fort," he said, grinning.
Building his tiny house at StorageMart has worked out well. "The location is close to work and close to my apartment. It's very clean and it's only $50 a month."
But his days at StorageMart are numbered. "I have to be out of my apartment by September because that's when my apartment's lease is up. I'm not re-upping," Lawrence said with conviction. A woman stops her car by the fence and shouts out to Lawrence, "You're the man in the tiny house!"
"Some people think I'm nuts and other people love it," as he waves goodbye to the woman.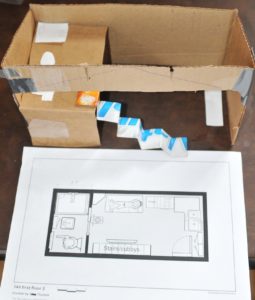 And though there's storage space beneath the stairs, Lawrence knows he won't be able to take everything with him. 'I made a list of what was essential and what wasn't – which is how I came up with the size of the house."
Where will he store what doesn't fit in his small storage area? "Probably StorageMart," he said, laughing.