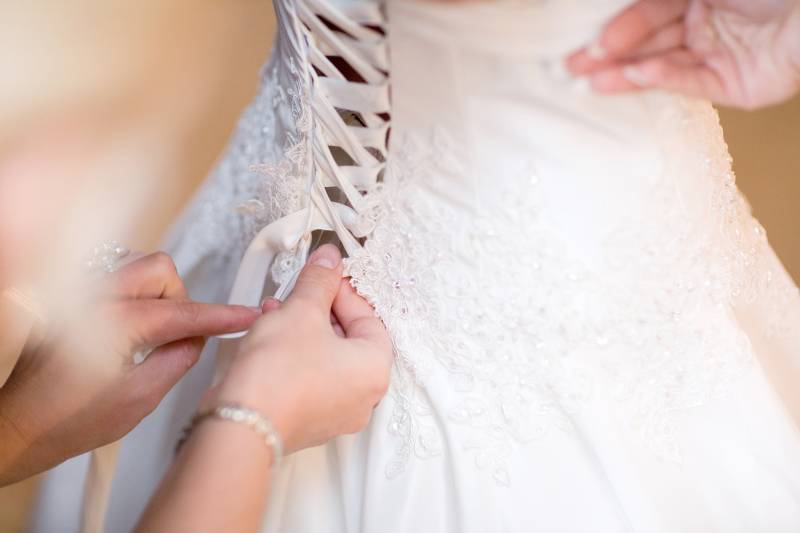 The Right Way to Prepare Your Wedding Dress for Storage
Congratulations! You made it down the aisle and married the person of your dreams. It might take a while for reality to start settling in, but when it does you'll start to wonder what exactly you do with your wedding dress when all the fun is over. You have a variety of options when it comes to what to do with your wedding dress, and the choice is entirely up to you.
Protect your wedding dress by putting it in storage

Donate your wedding dress to a bride in need

Sell your wedding dress

Turn your wedding dress into a baptismal gown or handkerchief to pass down in the family

Preserve your wedding dress for your daughter's big day
If you aren't sure exactly what you want to do with your wedding dress, there are a few things you can do to keep it protected until you decide.
How to Protect Your Wedding Dress for Storage
When it comes to storing your wedding dress, you can't just treat it like any other piece of clothing. Over time, your dress can discolour, start to smell or even deteriorate if it's not properly stored. Most wedding dresses aren't designed to last if just left on a hanger.
Step 1: Get your wedding dress professionally cleaned. This will ensure any dirt or debris from the wedding day comes out. The longer the stain has to set in, the more difficult it will be to remove. This is especially important for brides who had a wedding or photos outdoors. Grass does not easily come out of a white dress.

Step 2: Invest in wedding dress preservation. It's important to purchase a high quality garment bag to store your dress. This will ensure it doesn't fade or yellow. It will also prevent moisture from being trapped with the dress causing unnecessary damage.

Step 3: Store your dress in a cool, dry place. In order to keep your dress protected, you want to either store it flat in a box or hung on a hanger. Keep your dress out of direct sunlight and away from any major fluctuations in temperature.
Next Steps for Storage
Now that you know the basics on how to store your dress until you decide what do to with it long-term, it's important to consider what you should do if you plan to store it for a long time.
The best way to keep your dress in lasting condition is with professional preservation. Proper preservation can prevent yellowing, permanent creasing, mildew, mold, dust, oxidation and fading. Even if you don't plan on reusing the dress in the future, it's still a good idea to keep it protected just in case your plans change.
There are three options for professional preservation:
Vacuum sealing – Some cleaning companies can vacuum seal the wedding dress before placing it in a box that is acid-free. Sealing your dress has the potential to lock in mold, and it could create permanent creases in your dress, but it's still a better option than just leaving it in a garment bag in your closet.

Boxing it up – Your dress will be folded with acid-free tissue to prevent creases and to avoid any colour fading. The box isn't sealed, but is protected from the elements. This is a great option for if you plan to take the dress out and admire it from time to time.

Long-term bag – This option is ideal because it maintains the shape of your dress. It stays hung on a hanger and unfolded. There are specialty cotton bags for this type of preservation and special hangers to maintain the quality of your dress.
Preparing Your Wedding Dress for Storage
It took you months and months to pick out a dress, get it sized and to pay for it. Make sure you protect your investment for years to come by choosing to put your wedding dress in a climate controlled self storage unit. Learn about your options from StorageMart. Contact us today or rent a self storage unit online.
FIND A FACILITY NEAR YOU!
Exclusive discounts when you reserve online
Still have questions? Check out our FAQ.
View FAQ
Learn self storage tips from the experts at StorageMart
Read this helpful guide from StorageMart to improve your quality of life with self storage.