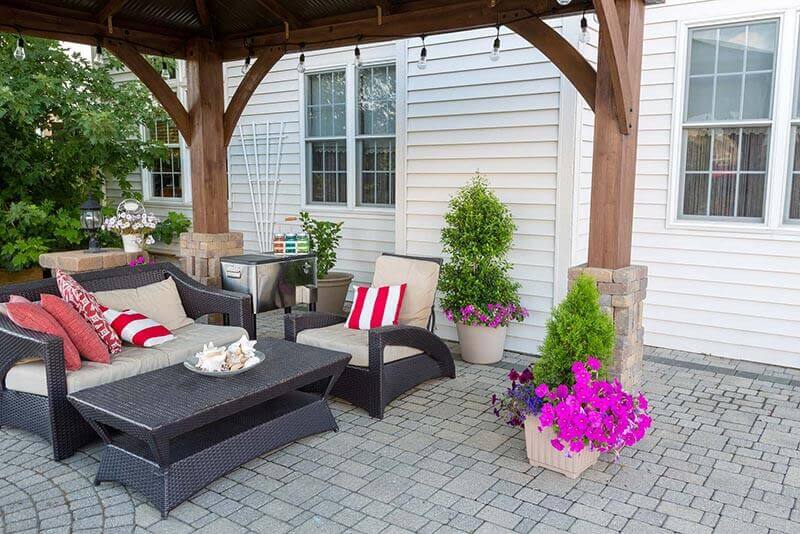 How to Store Outdoor Furniture in 5 Step
During the summer – and maybe even the fall –your outdoor furniture is a staple for both you and your guests. However, when you need to temporarily or permanently store loungers, tables, and chairs that don your patio, it's important to know how to clean outdoor furniture and how to store outdoor furniture correctly.
Learn how to keep your outdoor furniture in its best condition with these tips on how and when to store your outdoor furniture.
If you're like most people, your outdoor furniture probably gets pretty dirty throughout the spring, summer, and fall. Before you move your outdoor furniture to the garage for the winter, or put it into a self storage unit, follow these steps to keep it looking fresh and clean for next season!
Gather Cleaning Supplies: Your lawn furniture needs to be thoroughly cleaned when storing it for the winter or even for just a short time. If you're wondering how to clean outdoor furniture, start by gathering cleaning supplies, such as a vacuum for the cushions, a wash cloth, and laundry detergent or an all-purpose cleaner.

Wipe Down and Clean Outdoor Furniture: For metal outdoor furniture, prepare the pieces for storage by wiping down the legs, seat, and backs with water and detergent. You can also scrub the outdoor furniture and rinse with a hose. Wicker furniture with signs of mold or built-up grime may require a cleaning session with water and bleach. For wood furniture, consider adding a clear water repellant to the surface to extend its life.

Inspect the Outdoor Furniture: If you see signs of corrosion or rust, consider treating metal outdoor furniture with a rust-neutralizing primer. Outdoor furniture with excessive rust may also need to be painted to improve the look.

Invest in Furniture Covers: You can extend the life of your outdoor furniture by investing in covers that fit securely. Know when to store outdoor furniture so you can move each piece prior to exposure to harsh winter temperatures.

Move and Store: Know how to store outdoor furniture before you even load the pieces onto a moving truck. All cushions and fabric components should be packed away in a box or plastic tote. Keep tables and chairs upright and avoid placing heavy boxes or items on the outdoor furniture when it is placed into a self storage unit.
Tips for Packing Your Outdoor Furniture Cushions
Cushions help to offer a colorful look when decorating your outdoor area with furniture. However, your cushions need preparation prior to moving into a storage unit as well.
Thoroughly clean each cushion using a blend of water and detergent

Use a scrub brush to remove tough stains

Toss small pillows and cushions into the washing machine for a thorough cleaning

Allow all cushions to dry for at least 48 hours before storing in a plastic tub or tote equipped with a sealable lid
Choosing the Right Self Storage Unit for Your Outdoor Furniture
When you're determining what type of unit for your household items, appliances, or outdoor furniture, StorageMart has the options you need. Choose from a variety of sizes ranging from small (20 to 80 square feet), medium (81 to 150 square feet), and large (151 to 300 square feet). StorageMart also offers climate controlled units designed to keep delicate items like important documents, electronics protected during extreme cold or hot temperatures.
Selecting a Storage Unit with StorageMart
Storing your outdoor furniture requires a little bit of planning and some good, old-fashioned elbow grease. Maintain the condition of your outdoor furniture with premium units available from StorageMart. Each storage facility offers spacious options and our staff is ready to assist you in finding a temporary or permanent home for your favorite belongings. Find a StorageMart location in the United States, the United Kingdom, or Canada, and reserve a unit online today.
FIND A FACILITY NEAR YOU!
Exclusive discounts when you reserve online
Still have questions? Check out our FAQs.
View FAQ
Learn self storage tips from the experts at StorageMart
Read this helpful guide from StorageMart to improve your quality of life with self storage.