Taylor Toolworks' new location has provided room for the business to grow.
They don't make tools like they used to and you won't find these tools at your hardware store. These tools are old school – like the owners of Taylor Toolworks!
Mike and Dan Taylor's first business was a woodworking shop they ran after high school but after five years of 100-hour work weeks, they closed shop. Mike continued his woodworking as a hobby and became a physical therapist in Missouri while Dan chose a career in marketing outside of Boston.
Thirty years later, Mike started selling high-quality woodworking tools that he used in his garage workshop. "There are wood craftsmen who demand high-quality hand tools," said Dan "and Mike is the tool guru who knows what makes a good tool."
Taylor Toolworks started selling through eBay and Amazon. The business was starting to fill his basement and his after work hours were filled with shipping orders. He thought about selling the business but fate intervened when his brother joined the business. Soon, both of the brothers' basements were filled as they sold tools to the East and West Coasts, quickly running out of space.

From left, Dan and Mike Taylor make custom shelves to store tools they sell from their commercial storage unit.
And that's where commercial storage units provided the right answer. "StorageMart was the just the answer we needed," said Dan, gesturing to the small warehouse they rent in Columbia, MO. "We were frantically looking for space when we started working with Rhonda and Jason. We needed to have a climate controlled space and something we could take to the next step. Though Mike still test drives every tool we sell in his home shop, we store and sell from our commercial storage unit," Dan said.
The brothers sell more than 600 tools, and woodworking tools are their specialty. "Our tools are for custom craftsmen who use old-fashioned methods using old-time tools. We're witnessing a renaissance of people who want to do things by hand," Dan said.
Their clients include craftsmen, schools, manufacturers and even a nuclear reactor! "We have 50-60 different kinds of rulers alone," said Dan, describing rulers like Bubba Gump would describe shrimp. "We've got chrome finish, black chrome finish, and stainless steel, using English measurements and metric. We have different widths, lengths, and thicknesses. Some measure by 64th's and ones that measure in 10th's and some have no markings at all but are simple straight edges."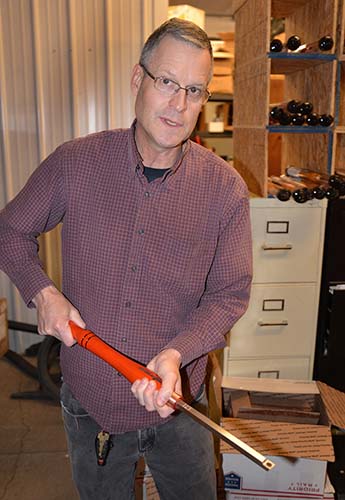 Dan demonstrates the correct grip with one of the many custom chisels the company sells.
​
Many businesses benefit from commercial storage units to grow their businesses just like the Taylor brothers, who are enjoying business success the second time around.