Delena's family will move out of a small, two-bedroom apartment in an unsafe neighborhood into an energy-efficient home where she can begin to save more money and have a better life for her and her children. "I thank God first, and all the volunteers and people who gave so that my family and I can have a place to call home," said Delena. "We had to move every year for about five years because the rent kept going up – now we never have to move again!"
That's a common story at the Lexington Habitat for Humanity. For 28 years, this Kentucky chapter of Habitat For Humanity, International has built nearly 450 homes for their neighbors in need. StorageMart, a Lexington storage company, supports that mission.
"We are proud of our partnership with StorageMart," said Tina Pugel, a Habitat spokesperson, "because their support has helped hundreds of families." StorageMart has donated more than $4,500 in Lexington to date.
On September 7, 1988, the first Lexington Habitat for Humanity Home was dedicated for the Smith family. That same day, the second Lexington Habitat for Humanity home broke ground.
The core mission hasn't changed as Habitat continues to partner with hard-working, low-income families, who help build their home that they purchase with a no-interest mortgage. "Now we serve other homeowners who live in their home as well, through our Love Your Neighborhood program," said Pugel.
"Often low-income families just need a little help for minor exterior repairs or more help with critical home repairs…and we are there for them! We partner with homeowners who provide a financial and time commitment so we can we fix porches, fences, and trim trees," Pugel said. "We can also help with electrical, plumbing, HVAC or other issues so homeowners can continue to live in their homes and be a part of their neighborhood."
Lexington Habitat depends on grass-roots support and donations, including sales from their ReStore, where people donate more than three tons of recyclable housing material every day!
Deconstruction services are available so it's easy to donate old cabinets, vanities, and flooring when remodeling homes. The ReStore also cleans and recycles old latex paint, tints it and resells it for a fraction of the cost of new paint! It's an economic and environmentally sound solution to getting rid of leftover paint.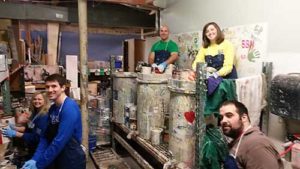 Founded in Americus, Georgia, USA, in 1976, Habitat for Humanity helps around the globe and has helped build, renovate, and repair more than 600,000 houses sheltering more than 3 million people worldwide.