Outdoor patios, decks, and porches are perfect for livening up your outdoor living space, or they can offer some fresh air for apartment dwellers with private balconies. Either way, if you're looking to make the most out of every square inch of your home, check out some of our tips on how to take advantage of your outdoor space. 
Patio Design

for Apartments and Homes
Your patio is your oasis and connection to the great outdoors. It's a place to enjoy a cup of coffee in the morning or a few moments of solace under the stars. 
Sure, you could just throw a couple of cheap plastic chairs and still enjoy the space. But the good thing about a small space is that it only takes a small budget to transform into something truly special. 
The key to transforming a decent patio design or backyard deck idea into a show-stoppingly awesome outdoor living experience is adding a focal point that draws the eye. Some backyard patio ideas for creating a visual centerpiece include hanging plants, outdoor lights strung over a railing, or a few unique sculptures – often readily available for cheap at garage sales, Craigslist, or even Facebook Marketplace. If you're willing to spend a little more than you expected, flagstones, fire-pits, fountains, or a trellis can all add drama and excitement to your backyard deck or patio. 
But by no means do you need to break the bank for your backyard patio ideas. Outdoor lights are the quickest and least expensive way to add charm to a space. Keep it simple and wrap twinkling white holiday lights around your railing, or spring for a few new strands. A few potted plants can add instant beauty and freshness to your al fresco dining.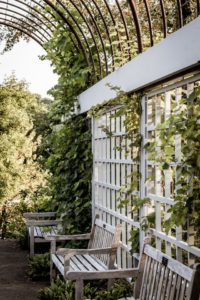 A trellis (shown here), balcony curtains, and folding screens are all ways to add privacy to your patio. The advantage of a folding screen is that you can easily move it to block the sun. Balcony curtains can be mounted on a spring tension rod. A trellis is an elegant way to add privacy if regulations permit you to install one.
Finally, make your patio pop with color. Pick a unified color scheme and start decorating. You can spray paint plain terracotta pots and fill them with colorful blooms or throw some bright pillows on your furniture. You could also put up a tapestry or flag if you'd prefer to fly your colors instead. These are just a few colorful patio ideas, a lot of it can be up to your imagination. 
Outdoor Furniture for

Patio Decks
Those outdoor sofas with deep plush cushions may work for a sprawling deck or terrace, but they're simply too big for most apartment balconies and uncovered patios. The cushions will get wet from rain and storing the cushions will take up too much space. 
Rather than going big, try to think more like a French café. A bistro set (see below for picture) doesn't take up much area and offers casual seating where you can enjoy a meal. It's heavy enough to withstand the wind and easy to wipe down and keep clean.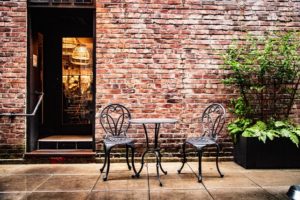 If you're looking for a cheap option, you can check out Facebook Marketplace to look for used items online or look for sales at a local furniture store. Of course, your choice of furniture all depends on how you prefer to use the space. If you're planning to catch some summer sun, lounge chairs are a must. But if you'd rather have an area to relax with company, a nice table with an umbrella and chairs is an excellent choice. 
DIY

Backyard Patio Decks
If you're looking for a summer project or need to spruce up a mundane-looking backyard, consider building a patio yourself. It sounds overwhelming at first, but it's worth it. Follow along with our helpful guide – it may not be a total piece of cake, but we promise it's not as daunting as it seems to make your own patio deck. 
Flagstone (see picture) is an excellent choice for tiling a backyard patio deck because it comes in irregular shapes that don't require the precision or skill to custom-cut stone your tiles. When using this design, make sure your stones are at least two inches thick to prevent them from breaking.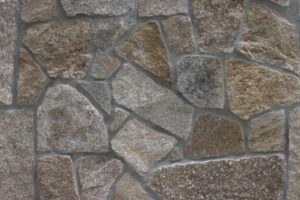 Next, choose which type of flagstone you'll be using. Bluestone, limestone, redstone, and slate are all good choices for backyard patio decks. These stones look great and will hold your patio together for a long time. Make sure your ground is as level as possible before you start. When you're ready to begin, use wooden planks or paint to outline your patio onto the ground. 
Dig out your patio to a depth of about five inches. Spread two inches of gravel and tap the gravel down. On top of the gravel, spread about an inch of sand and use a tamper to level it. 
Now you're ready for the fun part. Next to where you plan to put your patio, begin arranging your stones in a pattern that looks good and doesn't leave any excessively big gaps in your patio design layout. 
Mix mortar to complete one portion of your patio, about three feet by three feet, and trowel about an inch of mortar on your base. Next, move each stone to its permanent spot on your new outdoor living space. 
Sounds easy, right? But what if the stones are not all level? To fix the stones that are too low, lift them out and add more mortar. To fix the stones that are too high, lift them out and scoop out a bit of mortar. Make sure you complete this step after each section. If you wait until your entire patio is done, the mortar from the first section will already have begun to set. 
Let the mortar cure for a few days and then fill the joints. You'll do this by mixing mortar and putting it in a mortar bag. Then, fill the spaces between your stones. And that's it! Now all that's left is to decorate it and invite some friends and family over to show off your new patio design.
If you need even more backyard patio, including tips for hosting memorable outdoor parties, check out our companion article, Hosting an Outdoor Party This Summer. 
Easy

Outdoor Living

w

ith

Self Storage
While it's great to have some nice outdoor furniture, lighting, and decorations for your outdoor patio or deck during the warm seasons of spring and summer – you'll need a place to store all those things for the colder months. 
With self storage you can store your patio decorations and furniture on a month-to-month basis so you can take it all out as soon as it hits sixty degrees outside. Check out our outdoor storage tips for more helpful advice. Or, use our Self Storage Calculator and rent a unit near you.