So, you have a spare bedroom, but no ideas on how to effectively use the space. Maybe you just bought a new house with an extra room, or you have a child in college and you want to send the message "do not move back in!" Whatever the reason for having an extra room in your home might be, we have some spare room ideas to help maximize the use of the space in your home. 
Ideas for Spare Bedrooms
The obvious solution to repurposing a spare room is to make it a guest bedroom – but what if you don't want guests to stay with you, or you're an empty–nester making it clear that your child in college can't move back home after graduation? There are many fun spare room ideas out there, but we are here to break them down for you – from practical to slightly less practical – ideas for all budgets.  
What To Do

with

a Spare Bedroom

's

Clutter
If you lean on the more practical side of things, we have come up with a list of spare room decorating ideas that will add value to your home while allowing you to make the most out of your extra space. For all of these ideas, you'll need to start with an empty room. If you are a new homeowner and this room is already empty, you're a step ahead!  
But, if this room was originally acting as a second garage for clutter, or it belonged to a child who no longer lives at home, you'll want an easy solution to holding onto your belongings without taking up valuable space in your home. A great option for this is a self storage unit. Depending on the items you need to store, you can find either a standard or climate controlled unit that will keep your items ready for you at any time.  
After you've stored all your extra clutter, it's time to decorate your spare room! 
Turning a Spare Bedroom into a Walk

–

in Closet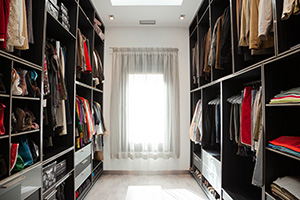 One of the best ways to make sure your guests check in to a hotel, or guarantee your child in college can't move back in, is to turn your spare room into a closet. This idea is perfect for a family member with a shopping problem or the couple that wants separate closet space. Using display racks, dressers, and shelves, your extra space can be filled with fashion-forward purpose. Toss in an accent chair and side table, and you've got a closet worthy of a Bergdorf regular. If you need some tips on remodeling a closet, we have a handy guide to doing it on a budget. 
Turning a Spare Bedroom into an Office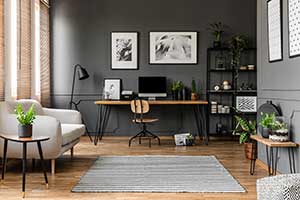 With working from home being the new normal for most, turning a spare bedroom into an office is a practical way to reclaim your space. There are many benefits to having a room dedicated to your home office – from having a space to separate your work life and home life, to having a spot at home where you can be productive, and more! You can splurge and make your home office one that you'll want to show off to all your coworkers, but it's also possible to do make a home office on a budget.
Turning a Spare Bedroom into a Home Gym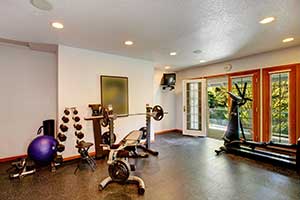 It's almost swimsuit season, and who doesn't love getting to work out in your own personal at-home gym? Making a home gym in your spare bedroom is the least budget friendly option on this short list, but if pumping iron is something you or your spouse is passionate about and being able to do this activity in the comfort of your own home is important to you, then this option is totally worth it. There are options to make at–home gyms work with any budget, it will just depend on your workout needs. 
Turning a Spare Bedroom into a Man Cave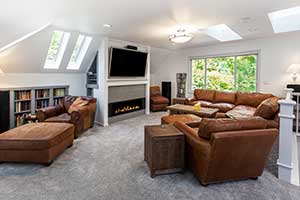 Every husband's dream is to hear their spouse tell them, "You can have a man cave," and your spare room is the perfect chance to let him have his own personal space for all his super manly activities. If your hubby is a big sports fan this could be your chance to turn the spare room into a home sports room so he can invite all his friends over for the big games. 
But who says the men get to have all the fun? You could turn this into a She-Shed, Fortress of Solitude, or really any room that fits your need for some alone time! This option is very flexible with any budget and easy to adapt to the personality of anyone in your life that needs a little extra personal space – especially if that someone is you. 
Unique Spare Room Ideas
Now if those conventional uses for a spare bedroom are not up your alley, don't fret! You can always go with the more unique ideas for a spare room that might fit your home aesthetic more, such as: 
Home movie theater

 

Pet room

 

Home library

 

Memorabilia shrine

 

Spa room

 

Plant room

 

Music studio

 

Art and hobby room

 

Game room

 

At-home bar

 
There is no right or wrong choice when deciding how to use a spare bedroom, making for endless possibilities to reclaim your space. There is no better time than now to create a room that caters to you and the things you value having at home.
About
StorageMart
If you find that you need a place to store all the extra belongings after using our spare bedroom ideas, we have you covered. When you rent with us, you'll find clean, well-lit storage units that can be rented on a month-to-month basis and are perfect to help you stay organized and keep extra clutter out of sight. Need more info? Check out our Self Storage Calculator or rent a unit online today.