Must-Have Essentials for Any Home Sports-Watching Room
It's gameday. But instead of heading to the stadium to join your fellow sports fans, you're at home watching the opening drive on your living room TV.
After all, it's not always feasible or desirable to attend every home game in person. There's the cost, the hassle, inclement weather, prior engagements, lousy seats, and plenty of other reasons to find yourself watching sports at home when your favorite team takes the field.
Sure, there's no substitute for watching live sports from the stands, but that doesn't mean you can't enhance the home viewing experience to get just a little bit closer to the thrill and the fun of actually being there.
There's also no reason to spend a fortune. In this article, we'll share the must-have, budget-friendly essentials for any home sports room – whether you're watching from the basement, the garage, or even a spare room.
Ideal TV Size for Your Sports Room
First, if you've got a reliable, reasonably sized spare TV laying around, it could be a perfect, no-cost option for watching sports at home in your new media room or man cave. If not, you'll need to get one. But what size? Believe it or not there's actually an easy-to-use mathematical formula that can help you select an appropriately sized TV for whatever space you're working with. This can help you avoid spending more than you should on a larger-than-necessary TV, or missing any of the action because you're too busy squinting to see the screen. Here's how to estimate the right size TV for your space:
1. Start by marking a spot on the floor where you'd like to place your TV.
2. Measure in inches from that spot to the ideal location for your couch, chairs, or other seating solutions. This is your viewing distance.
3. Divide your viewing distance by two to get your ideal screen size relative to where you're planning to sit.
For example, let's say your viewing distance is five feet, or 60 inches. That means you'll want, at minimum, a TV measuring 30 inches or more on the diagonal.
This is just a starting point, and your personal preferences might push you to a larger or smaller screen.
Don't Fumble with Reception in Your Sports Room
Once you have your TV size figured out, you're going to want to ensure a steady, reliable source of content. If you get your programming from a standard coaxial cable connection, all you'll need to do is make sure there's an outlet in the room you're using for your sports den. If not, however, consider these other options in lieu of running a new cable line to your space.
HD antenna: As long as you're somewhere that gets a clear signal, this is a quick, low-cost option that gives you a crisp, HD signal from your local networks. You won't be able to get ESPN or other cable channels this way, but for casual sports fans, it may be all you need. Keep in mind, though, that HD antennas are susceptible to interference from weather and even the walls of your home. The last thing you want is to lose your signal in the middle of a big play. This option may not be ideal for basements or garages.
Streaming from computer: If you have a premium account with one of the major sporting networks, you may be able to stream the game from your computer to anywhere in your home. All you'll need is something like a Google Chromecast to plug into your TV to make it happen. Just make sure that you've got a strong Wi-Fi signal in the room you're using.
Call the Right Audible
A good sound system can do wonders in recreating the feeling of watching the game live. You could go all-out and hook up an expensive surround system, but you don't need to. In fact, many of today's compact soundbars pack a heck of a punch in a small, inexpensive package. We do, however, recommend opting for a soundbar that includes a stand-alone subwoofer so you can literally feel the action at home.
Sports Room Pro Tip
Depending on where your home sports den is located, a loud sound system might be overkill. Consider if the occasional rumble of a hard-hitting tackle could disturb those within earshot.
Raise the Bar
Got friends or family coming over to watch with you? Then you don't want to get flagged for being a poor host. Make sure you've got an ample supply of snacks, drinks, and other refreshments on hand to satisfy those mid-game cravings. A simple mini-fridge – like the one you may have used as a student – is all you need to keep your drinks cold and your famous guacamole dip fresh.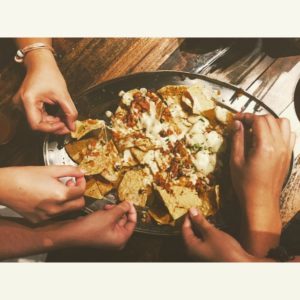 Sports Room Pro Tip
If you have an old pallet laying around, it's easy to turn it into a cool display rack for your favorite spirits. Check out this tutorial for how to do it.
Pack the Seats
Even if you mostly watch sports at home by yourself, don't get caught unprepared to offer occasional guests a comfortable seat to enjoy the game with you. Your seating doesn't need to be anything fancy; just make sure it's reasonably comfy and readily available. Maybe you've got an old couch, recliner, or futon still hanging around. Why not give it a second life in your new home sports den?
Sports Room Pro Tip
Folding camping chairs are great to have on standby when unexpected visitors stop over. They don't take up much space when not in use, and they're easy to pull out on a moment's notice when guests stop by.
Halftime Hijinks
Boring halftime analysis, relentless timeouts, or rain delays (for baseball fans), can really dampen the fun – no pun intended. Have a couple of options on hand to entertain yourself or your guests when the game is on pause. We recommend retro video games for their simplicity and fast gameplay, making them easy to pick up – and put down – when the game is back on.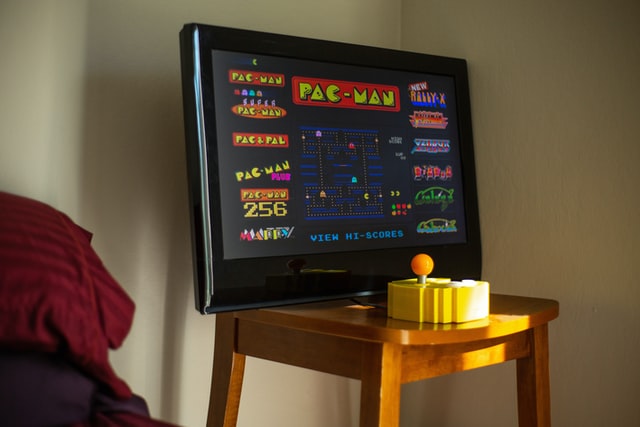 Sports Room Pro Tip
If you've got an unused or vintage video game system sitting on the bench, now would be a great opportunity to put it back in the game. If not, look for an inexpensive, all-in-one solution like the Activision Flashback Blast. It comes with everything you need to play classic Atari games, including a wireless controller. Just plug the HDMI stick into a compatible TV, and you're good to go.
Need to Make Room for Your Sports Den?
Perhaps the most important thing you'll need for any home sports den is the space for it. Whether you need help clearing out a spare bedroom, organizing your basement, or taking back the garage, StorageMart could be your MVP. Check out our storage unit size guide and put us in the game for you today.