What does James Bond's submarine car, the first Superman comic, and a 1966 Shelby Mustang in mint condition all have in common? These items and other valuables like them have contributed to the mass appeal of reality TV shows like Storage Wars. Each of these items have been left in storage units only to be bought as abandoned treasures.  Each of them with a story, and each of them, having great value.
One of those treasures was found not long ago at our StorageMart in Lexington, Kentucky. The cremated remains of United States Air Force veteran, Frank Solis were abandoned in a unit whose contents were being sold.
StorageMart manager, Rondia Daniels was alerted by the auctioneer that an urn and a photo had been found amongst the items. Seeing that the photo displayed a man in uniform, Daniels began a search to identify the hero and reached out to the local VFW (Veterans of Foreign Wars) who put her in contact with Fayette County Coroner, Gary Ginn.
A Wandering Path Home
Ginn took a personal interest in the case and dedicated a lot of time to connecting the dots figuring out who this hero was. His office confirmed the cremains were that of Solis and that he was born on June 5, 1929 in Mercedes, Texas and died on August 4, 2012 in Fayette County.
Ginn then began a search for Frank's family.  After several leads and little to show for it, he even reached out to local media to see if they could aide in the search. Ginn was finally able to locate distant family out of state who approved of, but could not attend a formal military burial. Ginn said he had become close to the case and felt compelled to hold a ceremony for Solis.  After a few phone calls and addressing necessary logistics, Solis was appropriately laid to rest at Camp Nelson National Cemetery with full military honors on June 14 (Flag Day).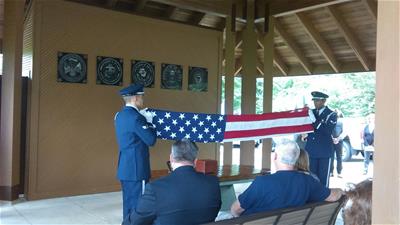 "It was so beautiful," Daniels shared of the ceremony. "There were flags everywhere, a local florist donated flowers and there was a gun salute. I was just so happy to see it all come together, yet, so humbled at the same time."
Some of Solis' friends were at the ceremony as well. Jason Lial said it was nice to see his friend properly honored. "I could always tell he was proud. He always said he was a veteran."
A Community Effort
There was a common thread in Daniels and Ginn's answer to why they felt compelled to spend so much time on this and to organize a ceremony. "It's simply the right thing to do. I would hope that everybody would do that." Ginn said, "Morally, it's the right thing to do and personally, it's kind of ingrained in me through my family to do the right thing."
StorageMart salutes the memory of United States Air Force veteran, Frank Solis and the fortitude of Fayette County Coroner, Gary Ginn, and StorageMart Manager, Rondia Daniels who promote the very basic concept of simply doing "the right thing."
At StorageMart, we're proud of folks like Rondia and Gary that best represent our charity resolve, "Store it Forward."
If you'd like to donate to the VFW who make ceremonies like this possible at no charge for our veterans go to: www.heroes.vfw.org