Supporting FAST in NYC
As one of the national charity sponsors, we at Manhattan Mini Storage are beyond proud to continue our partnership with the Foundation for Angelman Syndrome Therapeutic (FAST) and strive to find a cure for Angelman syndrome (AS). As part of our summer 2022 billboard campaign, we were able to include FAST to raise awareness for the nonprofit in one of the biggest cities in the world, and hopefully send traffic to their website for donations. Make sure to look out for it in Riverside and stop by the store while you're at it! 
"We at the Foundation for Angelman Syndrome Therapeutics (FAST) are profoundly grateful to Manhattan Mini Storage for being an important part of finding the cure for Angelman syndrome. This generous donation of the billboard not only assists FAST in fundraising, but also creates a great awareness for Angelman syndrome and the 500,000 individuals living with this life altering diagnosis. Thank you!" said the FAST Board of Directors. 
What is FAST and Angelman Syndrome?
In 2008 FAST was founded by Paula M. Evans after doctors told her there was no hope for her daughter who has AS. Evans along with an all-volunteer board of AS parents and medical professionals are dedicated towards reaching their goal of finding a cure for AS and similar ailments through funding research and trials. 
Angelman syndrome is a rare neurogenetic disorder that affects about one in 15,000 people, and approximately 500,000 people worldwide. The disease typically causes balance issues, motor impairment, and debilitating seizures. Some can never walk, most don't speak, and disruptive sleep can be a serious challenge as well. 
AS is a spectrum disorder so not all individuals will exhibit the same behavioral tendencies or preferences. But most of those with AS have unique behavioral characteristics including a happy demeanor, with very frequent laughing and smiling, as well as an affinity for water-based activities. 
Those diagnosed with AS require round-the-clock care and are unable to live independently. However, scientists believe that AS has the greatest potential to be cured, compared to other neurogenetic disorders, and FAST has a roadmap to achieve a cure. According to their website, "A cure is no longer a matter of if, but when." 
FAST is the largest non-governmental funder of AS research and they have expanded from the US to Australia, Canada, the UK, France, Italy, Spain, and Latin America. Here is a video on FAST going global if you want to learn more. According to their website, "94.3% of every dollar donated goes to support critical research," and they proudly state that "FAST has set the research agenda for Angelman syndrome." 
Below is a pipeline graphic of the progress FAST has made in their various therapeutic approaches to curing AS. AS has already been cured multiple ways in mice, and their progress on a cure is simply amazing. If you want to read more about the specific application and how these approaches work, visit their blog.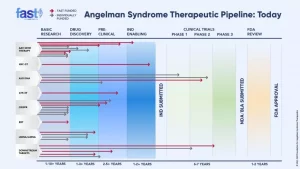 How Can I Help?
Since 2008, FAST has raised over $20 million to fund research thanks to their dedicated community. The easiest and quickest way you can help fund the research to cure AS is to donate online. You can also send a check or money order to their P.O. Box, listed on their website.  
Another great way to help FAST is to donate to their Cure Angelman Now (CAN) annual fundraising program. Or start your own fundraiser and join the team! The theme for 2022 is "Better Days Are Coming", which reflects their promising research and therapeutic treatments in the pipeline above.
Many companies and individuals also increase donations through FAST's Corporate Matching Gift Program, which matches your donation dollar for dollar or more. For example, Johnson & Johnson will match 2 to 1 and Grainger matches 3 to 1. Here is a full list of companies that match donations, consider contacting your company's Human Resources department to start gift matching if they don't already. 
Aside from monetary donations, spreading awareness for AS and FAST's mission for a cure via word of mouth or through social media is always helpful. International Angelman Day is celebrated annually on February 15th – spread the word!