StorageMart and Manhattan Mini Storage share a common passion to give back to the communities we call home. So, when we recognized a rare opportunity to offer prominent outdoor billboard space in one of the biggest, busiest cities in the world to our charity partner, Big Brothers Big Sisters of America, we were thrilled.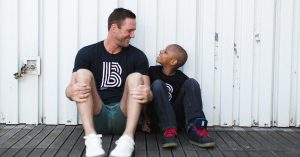 The resulting billboard, visible outside of the Manhattan Mini Storage location on Varick Street, is a collaboration between our two organizations that seeks to increase visibility and awareness around the cause and drive qualified traffic to the website for more information.
"Having this captivating billboard placed in this vibrant Manhattan neighborhood of innovators and business leaders brings attention to the need for mentors which is essential to meeting our goal of reaching all the youth in our city who seek a mentor." – ALICIA D. GUEVARA, Chief Executive Officer, Big Brothers Big Sisters of New York City
Inspiring Potential Through Youth Mentorship
For more than a century, Big Brothers Big Sisters of America (BBBSA) has been dedicated to developing the incredible potential that is inherent within all children by pairing adult volunteers known as "Bigs" with "Littles," kids aged five through young adulthood. BBBSA is the largest donor- and volunteer-driven mentoring program in the nation – and the positive relationships built here continue to make meaningful, lasting impacts on the lives of young people in our communities.
Helping Transform Mentorship in Our Communities
Store it Forward is what we call our collection of charitable giving initiatives, and it includes a multi-year relationship with Big Brothers Big Sisters of America. StorageMart and Manhattan Mini Storage are proud to contribute to this important cause.
As a valued partner and champion of the BBBSA mission, we have helped to match youths in need with the right adult mentors to help them succeed and realize their full potential. Members of our team have volunteered their time, resources, and even charitable storage units to help this organization carry out the impactful and irreplaceable work they do.
"Across the nation, our partners at StorageMart have been engaged with our local communities to support the importance of mentorship, this expansion with Manhattan Mini Storage is a natural extension of our shared commitment to empower youth." – DEBORAH BARGE, Chief Development Officer,  Big Brothers Big Sisters of America

In addition to the American arm of the organization, we also support Big Brothers Big Sisters of Canada through our online review program which raises donation money for every customer review.
Funding the Dream One Tackle at a Time
We have a soft spot for children, and we wanted to help tackle the need for qualified youth mentors head-on. We partnered with the Mizzou Football Team and the NFL's Kansas City Chiefs to implement the Tackle Tracker Donation program. For every successful tackle made by one of our sponsored football teams, we pledged to make a corresponding donation to BBBSA.
Going to the Line for Our Littles
The Charity Stripe Free Throw Donation program has raised thousands of dollars for Big Brothers Big Sisters of America. The way it works is simple. Every successful free throw made by one of our sponsored collegiate basketball teams equates to a dollar amount awarded to BBBSA.
Learn More about How We're Storing It Forward Everyday
Store it Forward is our way of donating space and funds to local charities. If you enjoyed sharing in our journey with Big Brothers Big Sisters of America, you'll love this accompanying story detailing a similar opportunity we presented to FAST, the Foundation for Angelman Syndrome Therapeutics.
Learn more about our Store it Forward program and how we give back to our communities, or search for a location near you to start storing today.