Did you know pineapple is the only fruit that bites you back? An enzyme in the flesh of the fruit called bromelain targets key proteins in your mouth and digestive system, causing that tingling sensation when you eat it. This same enzyme is also what makes pineapple juice a great meat tenderizer. 
I don't know much about tenderizing meat, but I do know how to pair a cocktail with a flank steak grilled fajita. While April showers have washed away my winter blues, they've left me with a new affliction. A single summertime craving – margaritas. They're easy to make, even easier to share, and perfect for those warm summer sunsets that leave you sun kissed. Live the California Dream with a simple and clean pineapple margarita that's got a little kick. 
Twisting
with
Tequila
Margaritas are a clean drink, enhancing the subtleties of the tequila with the addition of lime and orange liqueur to bring out the softer, harder-to-taste notes. Their simplicity is what makes them such a versatile drink, and a universal favorite for customizing to anyone's personal tastes. Our take on the BBQ classic is primarily sweet with a little bit of spicy, but it's easy to make your own with a little bit of experimenting.  
In our version, we use Cimarron Blanco Tequila and Mathilde Orange Liqueur, but this cocktail will be tasty with any 100% agave Tequila, silver or gold. Simply Recipes has a great guide for pointing you in the right direction when just getting started. And if you've got a hankerin' for something yummy and cooked over a high heat, check out our take on The Difference Between Grilling & BBQing. 
Quicker on Bitters Rocks
When someone says cocktail bitters, I immediately think the old fashioned. But really, cocktail bitters can be added to any cocktail you're making – including margaritas. Angostura bitters aren't my favorite to mix with tequila, but if we add orange bitters we'll get a fruitier aroma – or maybe hot chili bitters for a bigger bite. Personally, I'm a huge fan of grapefruit bitters when mixing anything with pineapple, but you can find the perfect bitters for your bar with Cocktail Emporium's collection guide.
Nonalcoholic
Margarita
S
ubstitutions
When I throw a party, I want to make sure that all my friends can have a good time – that's why I like to have great substitutions on hand so everyone can feel included. Ritual Tequila is ethanol-free and has the same smokey aroma and grassy flavors that tequila lovers adore. The packaging even has the look and feel of a bottle of tequila. 
If you really want to play off the heat and sweet combo, limeade is a perfect amount of sour to blend them together. Fresh lime juice also works, just keep it to one ounce.   
The presence of the orange liqueur is meant to balance the tequila, which makes substituting it a little tricky. A straight substitution is using a tablespoon of orange concentrate, but it may not be necessary depending on what you add and take away.  
Make

It

Y

ourself, and Make

It

Your

O

wn
To start, you'll need a margarita glass. I prefer a rocks glass because they're easy to clean, but I'm not going to stop you from using the classic Margarita glass. Next, you'll need a lime wedge, some raw sugar, and some Tajin Clásico to make our rim. Mix equal parts Tajin and raw sugar in a small plate or shallow bowl, then use your lime wedge to moisten the rim of the glass. Then, press the rim into our mixture until covered. I use a half rim when making small cocktails, and a full rim for large cocktails.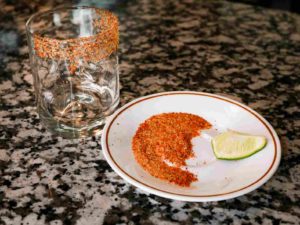 For the next step, you'll need a cocktail shaker full of ice and add in all your liquids. Shake vigorously until the metal sticks to your hands to ensure a good and frothy texture.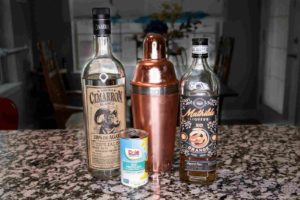 We're almost finished with our margarita; all it needs is to be strained over the prepared rocks glass full of ice. Once you garnish with a lime wedge, it's ready to serve!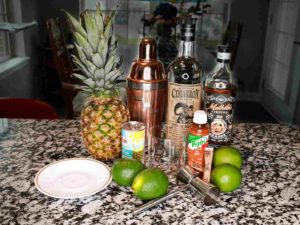 Ingredients for a Pineapple Margarita
½ oz orange liqueur

 

1 ½ oz tequila

3 oz pineapple juice

Tbsp Raw Sugar

Tbsp Tajin Seasoning

Lime wedge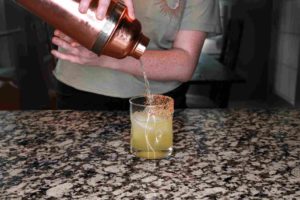 How to Make a StorageMarg
On a small plate, mix Raw Sugar and Tajin Seasoning

 

Moisten half the rim of a rocks glass with a lime wedge

 

Rim the glass by pressing the limed sides into the Tajin Mix

 

Add tequila (or substitute), orange liqueur, and pineapple juice to a cocktail shaker

 

Add ice and shake until frothy – the shaker will be very cold

 

Strain over ice into prepared rocks glass

 

Garnish with a lime wedge

 
As always, please drink (and store) responsibly. 
About
StorageMart
StorageMart is the largest privately owned self storage company in the US, UK, and Canada. Each location comes with a wide range of amenities built in to ensure a pleasant storage experience every time. Find out how much space you'll need with our handy Self Storage Calculator and make space for your summer BBQ with a clean and easy-to-access storage unit today!