For a place they call the big city, everything here is pretty small. But that got us thinking, why not take the classic Manhattan cocktail and make it mini, just like us! So run down to the liquor store or bodega to grab your supplies and follow along as we teach you how to make your own Manhattan (Mini).  
Shut
Your
Ver-Mouth
This recipe requires vermouth, but what the heck is that? Vermouth is "an aromatized, fortified wine," which is fancy speak for wine that has extra botanicals, spices, herbs, or roots for additional flavor and aroma. Vermouth can come in either sweet or dry varieties, but with this recipe, we're making a sweet vermouth cocktail. It is most commonly seen in martinis and the classic Manhattan cocktail, so you might've tried it before and not even realized it. 
Variations on the
Manhattan
Cocktail
It's pretty easy to adjust the ingredients of a Manhattan to fit your drink preferences. If you're wondering what's in a Manhattan drink, besides the usual suspects, here are some of our favorite substitutes: 
If you like a dryer cocktail, switch the sweet vermouth to a dry vermouth

 

Make any Manhattan a perfect Manhattan by using a half oz. of sweet vermouth and a half oz. of dry vermouth

 

Reverse your Manhattan by using only 1 oz. rye whiskey and 2 oz. vermouth

 

Try a black Manhattan by adding 1 oz. Averna Amaro, a kind of aperitivo liqueur – beware of your choice of bitters. Amari (plural of Amaro) can be super bitter, so we would suggest using chocolate or sassafras bitters for the best pairing

 

If you want your drink to be on the sweeter side with slightly less alcohol content, try using brandy instead of whiskey

 

NON-ALCOHOLIC VERSION:

This can be tricky since a Manhattan cocktail is mostly alcohol, but not impossible. There are some tasty alcohol-free rye whiskeys and sweet vermouths out there. With those substitutions, you'll be able to enjoy a yummy non-alcoholic Manhattan (Mini)!

 
How to Make a Manhattan (Mini)
This recipe makes five shots of the Manhattan (Mini) so grab some friends (or not) and let's get started!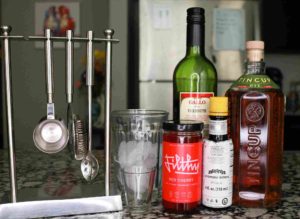 Ingredients:
4 oz. Rye Whiskey

2 oz. Sweet Vermouth

6 dashes Angostura Bitters

 

Cherries (one per shot)

 

Ice

 
Tools: 
5 Shot Glasses

 

Medium Size Glass

 

Jigger

 

Spoon

 

Drink Strainer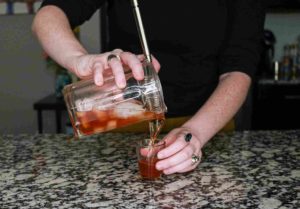 Recipe: 
In a regular size glass with ice, add rye whiskey, sweet vermouth, and bitters

 

Stir ingredients with a spoon

 

Over a strainer, carefully pour the drink into the shot glasses

 

Add a cherry for the perfect garnish and chaser

 

Enjoy!

 
And as always, please drink (and store) responsibly. 
View our video tutorial on how to make the perfect Manhattan (Mini) here!
Take a Shot on Mini Storage
Living in a small space is stressful, but we're here to help – and not just with our yummy twist on the famous Manhattan cocktail. With clean, well-lit storage units available in a range of sizes to fit all needs and budgets, Manhattan Mini Storage has space for all. Check out our Self Storage Calculator, then find the perfect unit near you.