As an essential business supporting other essential industries across the U.S., the U.K., and Canada, StorageMart has had to adapt quickly to the unique and ever-changing challenges presented by COVID-19. From non-profits to fire departments and healthcare professionals, the vital workers we serve with commercial self storage solutions have faced many unexpected changes and obstacles, as well—making the concerns, safety, and needs of our customers more important than ever.
Some social distancing accommodations are true by nature of most storage facilities: The properties don't have many people on site at any given time. Tenants can access their storage units alone and avoid coming within six feet of someone else. However, our storage rentals support a socially distanced storage experience in additional ways that allow both our customers and employees to continue taking all the proper health precautions.
How Self Storage Allows Space for Social Distance
In more ways than one, StorageMart's self storage process is designed to give you the space you're looking for. Thanks to online reservations, convenient access hours, round-the-clock customer service, and more, our tenants can reserve the storage they need and move in while making minimal contact with anyone else. Here's how:
Online and By-Phone Storage Unit Rentals
Within minutes, you can secure a storage unit through our speedy online rental and reservation process. Simply find a StorageMart facility near you, browse available units, then complete an "Express Checkout" to reduce the amount of time you spend in our office when you arrive.
Prefer to speak with one of our storage experts before renting? No problem! Our 24/7 customer service line is ready to connect you with one of our storage experts at any time of day so you can start storing. Calling ahead to reserve and pay for your self storage unit will also reduce your time in the office.
Whether you opt for an online or telephone reservation, you must still check in with the facility office before accessing your unit. Rest assured your local store manager will have everything prepared when you arrive to ensure your check-in moves quickly and smoothly.
Online and By-Phone Payments and Account Management
When it comes to paying your storage rent and accessing your account, you don't have to leave the comfort of your home or make an errand out of it. Instead, take advantage of the many convenient ways you can manage everything remotely. Log in to the online tenant portal using your account credentials to pay your monthly bill, update personal information, and manage other account details. You can also pay over the phone using our automated system by calling customer service.
24/7 Customer Service Line
StorageMart strives to simplify your self storage experience at every step—which means you shouldn't have to drive to us to rent storage or when you have a question. No matter why, when, or where you might need to reach us, our customer service team is available 24 hours a day.
Adjusted Office Hours and Convenient Facility Access Hours
As a StorageMart customer, there's never a need to come into the office before visiting your storage unit. With daily, extended gate access hours at most of our facilities, you can use your unique PIN to enter the premises whenever it works for your schedule. Additionally, some of our locations are operating under adjusted office hours, which you can find within our COVID-19 updates.
Cleaning and Sanitation Practices in Our Stores
Of course, regular cleaning and sanitation are just as crucial as social distancing at our storage properties. Luckily, cleanliness has already been a hallmark of the StorageMart brand promise before the pandemic.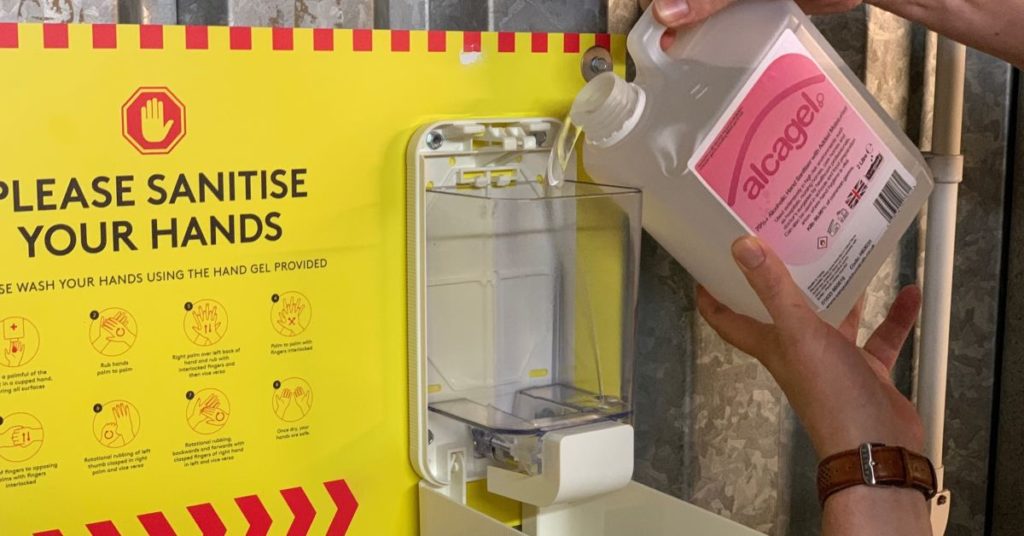 Some of the specific measures we are taking to promote the comfort, health, and well-being of our employees and customers include:
Requiring face masks for all customer-facing StorageMart employees.
Using plexiglass shields as an additional safety barrier.
Stocking hand-sanitizing stations for patrons and employees.
Disinfecting all possible surfaces, such as sales counters, debit/credit card machines, carts, door handles, and buttons to elevators and interior keypads.
Get More Space with StorageMart (While Keeping Your Distance)
We have always worked to improve processes and efficiencies that save our tenants time, space, and stress, but the urgent need for heightened sanitation and social distancing has increased everyone's awareness of the individuals and surfaces around us. This has allowed StorageMart to streamline even more practices that are here to stay for the long term, with much credit to our online and by-phone options to find, rent, and pay for self storage. Our friendly team is always ready to serve you, even from a distance. Reserve your ideal storage unit online to get started today!