Disability Charity Gives Wheelchairs
Part of StorageMart's mission is to give back to the communities of which we are a part. Our primary way of doing so is through our Store it Forward initiative, a program that gives donated charity space or sponsorships to charities and organizations that are doing good work in the community. We want to highlight an organization in Etobicoke called Purinapaq, a disability charity that collects gently used wheelchairs, scooters, and other mobility devices and refurbishes them. They then connect with people who have physical disabilities and are unable to afford a mobility device.
From the Local Charity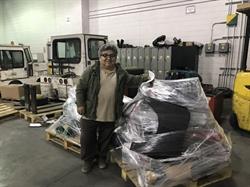 We at Purinapaq are sincerely thankful to StorageMart for their generous donation of storage space. Over the years, we've used the space to stockpile items such as gently-used wheelchairs – both manual and powered – walkers, various mobility aids, donated computer equipment, braille printers and any other supplies that could be useful for poverty stricken populations living with disabilities in South America. Once we've collected, refurbished and customized each item with supervision from an occupational therapist, we send it individually by air cargo for a specific recipient and have it fitted by our local partners. We also utilize shipping containers once we've collected a significant amount of equipment or supplies to distribute. Our mandate is to fit a full-sized shipping container with as many items as possible to be sent down to our partner organizations south of the border. Our partners receive all items, assemble if necessary and distribute to families and individuals in need. In addition to our work providing wheelchairs and other assistive technology to people in need in South America, we also help people with disabilities locally by doing repairs and/or replacing damaged mobility equipment when necessary. Without the storage portion of our charity model sustaining our endeavors, we would not have been able to make the impact that we've had over the years – over 8,000 wheelchairs and mobility devices have been distributed to needy individuals. We can't thank StorageMart enough for the ongoing support of Purinapaq.
A young Peruvian girl by the name of Juana was suffering from spinal bifida and unable to walk or bear weight on her legs at all. She had been confined to her home for most of her life, which had caused depression and loneliness. Her family was not able to afford a powered wheelchair, which was the only way she could be independent and get around on her own. After finding our program on-line, she contacted us directly and pleaded with us to locate a powered chair for her. Luckily, we were able to find a suitable chair to accommodate her needs. We utilized air cargo to send the wheelchair to Juana directly and our local partners received the shipment and customized the fitting to her needs within her own home in Peru. To our amazement, within a few weeks her spirits and attitude towards life changed entirely. She began venturing out on her own, meeting new friends and exploring her artistic talents which were quite amazing. She now enjoys her independence and is successfully completing law school in Peru at San Marcos University.
StorageMart is proud to sponsor Purinapaq and other great organizations within our communities around the world. Giving back is the mission of our Store it Forward program, and stories like these make it well-worth the donation. Learn more about Purinapaq and their work at www.purinapaq.org