Hurricane Irma, the strongest Atlantic storm in recorded history, made landfall over the Caribbean islands with 155mph winds and is scheduled to reach Florida this weekend.
"Irma is a potentially catastrophic Category 5 hurricane and will bring life-threatening wind, storm surge, and rainfall hazards" according to the National Hurricane Center.
On Tuesday, President Trump declared a state of emergency in Florida, the U.S. Virgin Islands, and Puerto Rico due to Irma.
The Florida Keys are under a mandatory evacuation and StorageMart's self storage locations in Key West and Big Coppitt Key are closed until the storm passes and business can resume.
As families in the path of Irma prepare as best they can, and even leave their homes behind, StorageMart is preparing by partnering with the American Red Cross to raise disaster relief funds.
Our goal is to raise $25,000…
of which we will match dollar-for-dollar, for a total goal of $50,000.
Donating Now Closed- Please contact the Red Cross to donate.
When you give to the American Red Cross, 90.1% of every dollar goes towards humanitarian services. For more information, please visit their profile on Charity Navigator.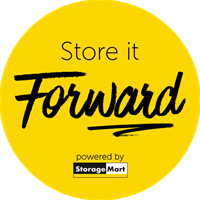 More about Store It Forward
StorageMart's "Store It Forward" giving program partnered with the American Red Cross immediately after Hurricane Harvey brought record-breaking rainfall across the gulf coast. The self storage company pledged to raise $25,000 in donations towards disaster relief funds, with a 100% match from StorageMart, for a total of $50,000.
In the past week, over $10,000 has been donated by StorageMart customers, employees, and the community.