Due to the Covid-19 pandemic and everyone being bored at home – the trading card industry and really all hobby-related industries saw a massive influx of interest over the past couple of years. With people sleeping in tents outside of Walmart waiting to buy cards and sports card stores selling out frequently; there has been a huge increase in demand for trading cards and in turn, the prices have skyrocketed. Just for a couple examples, recently, a T-206 Honus Wagner sold for $7.25 million at an auction, dubbed the worlds rarest baseball card. There was also a 1952 Mickey Mantle card in mint condition sold for $12.6 million in August 2022. Insane right? 
The price of purchasing packs or boxes of cards has seen a huge increase as well. According to Forbes, eBay, the main marketplace for buying and selling trading cards, reported that the category grew 142 percent in 2020 and sold more cards in the first six months of 2021 than in all of 2020. 
So, clearly you can see the value in keeping your trading cards in mint condition. Whether you are storing Pokémon, vintage Magic: The Gathering, 1/1 sports cards, or really any trading card, we are here to give some tips on how to keep them in pristine condition for years to come. 
Pokémon Card Storage
Pokémon and other trading cards are made from one of the most delicate materials there is – paper. They are prone to damage from just about anything including water and oils from fingertips. Taking care of your cards is important if you intend to sell them, and years from now, you will thank your past self. 
All trading card enthusiasts know about flimsy or hard plastic covers. The cheap, thin plastic sleeves are called penny sleeves, and the hard, durable plastic ones are called top loaders. These must go over the card as soon as you open it. And while opening cards it is important to wear gloves, or only grab the cards on the edges, so you don't leave any fingerprints or smudges. 
The best way to store expensive cards is with top loaders. Also, if you want to send your cards into a grading company such as PSA or CSG, they require the card(s) be enclosed in top loaders.  
There are then large binders many collectors choose to store their cards in. They're a good way to easily show off your card collection, as you have nine sleeve slots per page, and can easily fit most of your collection into one binder. But it's best to keep the valuable cards in the more durable top loaders. 
Some Pokémon decks come in tin cans, which are durable and made to keep your cards safe. After putting on sleeves, these tins can double as storage, as long as you don't stuff them too full. They're made out of aluminum however, so you need to be careful storing them in humid conditions as they can rust. 
Aside from tins and plastic packs, Pokémon cards can also be purchased in metal boxes. I recommend you wrap them in plastic to avoid moisture getting into your cards, especially if you're reselling them. You can also purchase empty metal boxes to store your cards. 
How to Store Sports Cards
While many sports card companies make their cards thicker with more layers of paper and plaster, and sometimes include pieces of jerseys, cleats, and/or signatures – the storage techniques are the same as I mentioned above for Pokémon cards. Many sports cards will come in metal boxes, and if not, the top loader sleeves are your best option to store them. 
If you just dug up an old collection of sports cards or have a box with cards from years ago and don't know what to do with them, you can take them to trading card stores, and they will go through your collection for you.  They'll pull out anything of worth and most likely offer to buy them off you. Just make a quick call to your local shop to see if they offer this service. 
Many sports cards are extremely old, like Honus Wagner cards, made from 1909-1911. So, it's important to be extra careful when unpacking or storing these cards as the paper becomes more and more brittle over time.  If you're also wanting to store comic books, check out our tips from storage experts to keep their value.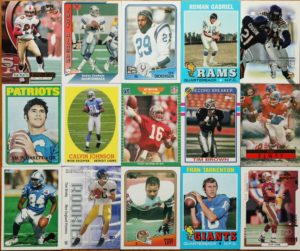 Keep Your Cards in Mint Condition

with Self Storage
Since trading cards are made from layers of paper, it makes them especially prone to the elements. Heat and sunlight can damage your cards and make them worthless. With self storage you can keep your cards in mint condition for years, we offer climate-controlled storage to help with extreme heat and can guarantee no sunlight will touch your cards. Check out our Self Storage Calculator, then find the perfect unit near you.