Cancer – easily one of the most prolific diseases of our time. Even the mention of cancer can illicit feelings of despair, hopelessness, and sorrow. Many people know someone who has had cancer, and for those who have been diagnosed with it, the daily grind is difficult to bear while coping with the disease and the treatment. One UK charity seeks to provide respite and distraction from the reality of living with cancer by providing outings – specifically sailing and water outings – to those battling cancer.
*Stories from Sail 4 Cancer
David had been living with cancer since 2001. He said his (now adult) children had spent much of their childhood with a Dad who was unwell – and obviously this also had an effect on the family's finances, but they had struggled on. Then in 2013 with his cancer spreading to his bones and liver he was diagnosed as terminal. David wanted to spend some quality time with his wife Eileen as she had been such a rock throughout his illness; also, as he was no longer able to do much around the house, he was keen to give Eileen a well-deserved break. A cruise to the Norwegian Fjords, courtesy of Sail 4 Cancer, was what they chose to book; David said, "I can't believe this might be happening, it feels like a dream!"
David had been told by his consultant that they should book their break sooner rather than later, but they were totally unprepared for the news, received just before they sailed, that his cancer had progressed much quicker than predicted and that his life expectancy was reduced from a couple of years to just a few weeks, even though he still felt relatively well.
When they returned from their cruise, David told Sail 4 Cancer their sad news: "As you can imagine we were both devastated, and in a state of shock. The one thing that kept us going was the thought of getting away. The break allowed us to have those horrible conversations in private and rest and relax to take things in. So once again, thank you so much for what you and your amazing charity gave us."
A little later in the year, Eileen's sister got in touch with Sail 4 Cancer to say: "I thought you would like to know that David became very unwell a few weeks ago, and is now receiving end of life care in a hospice. Eileen was telling me today just how grateful they were to have had such a lovely time together on their first ever cruise, and how they had discussed David's final wishes in the peaceful environment away from the bustle of everyday family life. The timing and the tranquillity was perfect. She will remember that trip for ever."
Not every story can have a happy ending, but it is heart-warming to know that this cruise gave the couple a chance to say a proper goodbye in a beautiful relaxed setting.
Supporting Cancer Research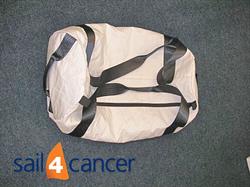 Sail 4 Cancer also supports the search for a cure through large fundraising events. For ongoing funds, they've recently started a program called Sail 4 Sale. The initiative takes old and used sails and turns them into functional bags, awnings, parasols, and furniture covers. The program is a great way to recycle old sails and prevent them from ending up in landfills. StorageMart provides donated storage for the bags and materials for the Sail 4 Sale program.
The Chairman for Sail 4 Cancer said, "This recycling initiative is a partnership between many organisations who are all working together to help families in difficult circumstances. Veolia UK is helping with logistics and StorageMart is assisting with container storage. The bags are being made by M-24 and the initial batch of sails have been donated by Wight Sails. We are incredibly grateful for their help."
Learn more about Sail 4 Cancer and Sail 4 Sale at sail4cancer.org
*This is a true story but the names and some minor details have been changed to protect the identity of the individuals concerned.