StorageMart – More than Just Storage Units in Burlington
StorageMart's commitment to quality promises easy, clean, service for our customers. Part of the way in which we embody our calling as a service company is to also provide for charitable giving and fundraising efforts through our Store it Forward initiative, a program designed to give back to the communities we call home through donations, discounted storage, and our feedback campaign where we donate for every review we receive online.
Our location on Syscon Road is a prime example of our Store it Forward initiative, giving back to the community through an annual food drive and fundraiser sale with StorageMart clients stepping up to the plate to help support a great cause. The store manager, Alice Hayashida, started fundraising a few years ago with the goal of supporting charities in Burlington, Ontario. Alice writes,
"Back in 2013, I was thinking about starting a very small fundraiser. At the time, I had no items to sell. Then, a few long-term clients moved out and gave me a huge load of books. So, this was perfect – I held a book sale and the proceeds went to a local charity.
The following year, I asked clients for donations of items, when they happened to mention they were going to get rid of stuff. In 2014 I had quite a variety of items to sell and again, the money went to the same local charity."
Supporting the Burlington Salvation Army
The fundraising efforts continued to prosper and grow. Alice decided to give half of the raised funds to one of the many Burlington, Ontario charities and the other half to an environment group. In early 2016, she raised $500 that was donated to the Burlington Salvation Army. Later that year, she raised another $500 and that was donated to Bird Studies and StorageMart matched the donation.
"This year, we decided to not just do a fundraising sale, but also do a food drive. We raised $500 again for the Salvation Army, as well as 7 boxes of food. The Salvation Army does such great work helping in our community."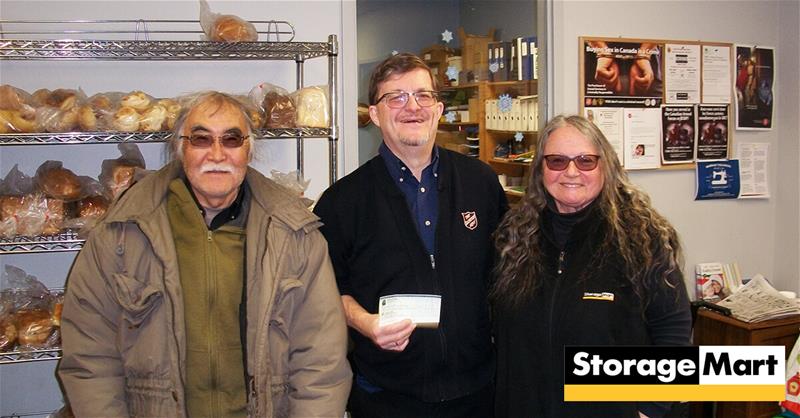 This picture is of my husband Mas (who also works at StorageMart) and me, and the fellow in between is Major Dean Locke who is in charge of the Salvation Army here.
Burlington, Ontario Charities are a Win-Win
The fundraising sale is a win-win situation for both the employees and the customers. The StorageMart clients feel great about donating items for a great cause, and the people who purchase the items tell their friends and family, and the community comes together to support the fundraising.
"It is really important to give back to the Community you live in. That is why I am so appreciative that StorageMart allows me to hold these Fundraisers here in the store. It lets us offer more than just storage units in Burlington."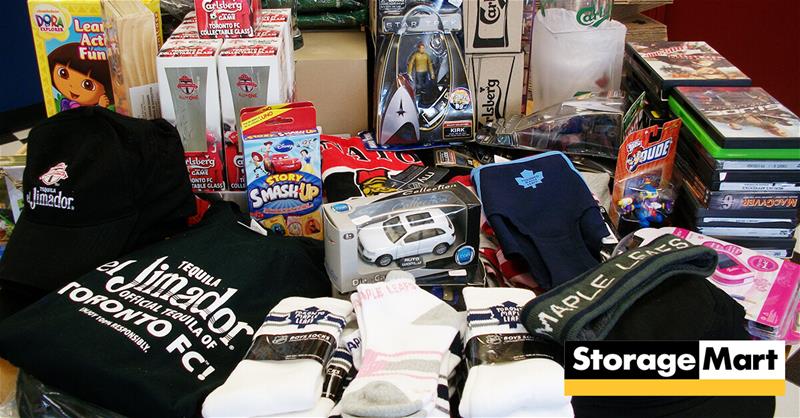 If you'd like to know more or learn how you can help the community by supporting future fundraising drives, reach out to our Burlington location on Syscon Road. They'd love to hear from you! You can call them at (905) 634-9979. You can also learn more about the Burlington Salvation Army by visiting their website.