If the flexibility to telecommute wasn't already an option at your workplace, there's a good chance that has changed. As employees and business leaders are doing what they can to slow the coronavirus spread, remote work has become the most feasible way to ensure social distancing.
Love it or hate it, though, working from home doesn't mean your personal routine or productivity has to suffer. With the right office setup, you can still find ways to strike that ideal work-life balance. Whether you're relocating for a job that allows you to telecommute or still mastering the art of working from home with kids, StorageMart offers some of the most useful tips for creating a home office that keeps you focused and comfortable.
Setting Up Your Work-from-Home Office
Getting your home office situated while ensuring you have all the supplies you need is key. You really don't want to have to rearrange the entire bedroom a second time. Plus, if you don't have a "real" office chair or desk at home, there are always ways to make it work. (Hint: Your kitchen table and a supportive chair can serve as a perfect makeshift desk, too!) Here's what to keep in mind:
Carve Out Plenty of Desk Space
No matter what style of desk you choose, it should have plenty of surface area to accommodate the work you do throughout the day. If your job is mostly digital, don't reserve only enough room for your computer, monitor, and keyboard; you'll likely want space to arrange your planner, phone, pens, pad of paper, and coffee mug in arm's reach without knocking anything over.
That said, there's no need for overindulgent desk space—with side shelving attached and the whole nine yards—if it doesn't serve you. Consider the items you actually need at your fingertips during the workday, then minimize the rest of the office clutter. Oh, and make a point to declutter frequently, especially if you're messy-natured. For any video conference calls you might have, it's also wise to ensure you have a somewhat neutral, professional backdrop.
Don't Overlook Office Supplies
If it's in your budget, invest in a desk that you love as well as a sturdy office chair that supports proper posture. You want a seating arrangement that keeps you alert and upright but comfortable. For jobs that produce lots of paper clutter, get desk and drawer organizers that will help you easily sift through to find what you need. For your computer or laptop, you may look into accessories like a monitor for an extra screen or a wireless mouse and keyboard. It might seem excessive or unnecessary, but taking time to figure out exactly what you need to be more productive goes a long way.
Maximize Vertical and Horizontal Space
Unless you are naturally organized and minimalist, seek out space-saving solutions that will do some of that work for you. Stack the things that can be stacked, and contain the clutter that you need to have readily available on your desk. This doesn't just go for files and papers, either. There is also a variety of affordable gadgets and tools designed to keep your electronics in order.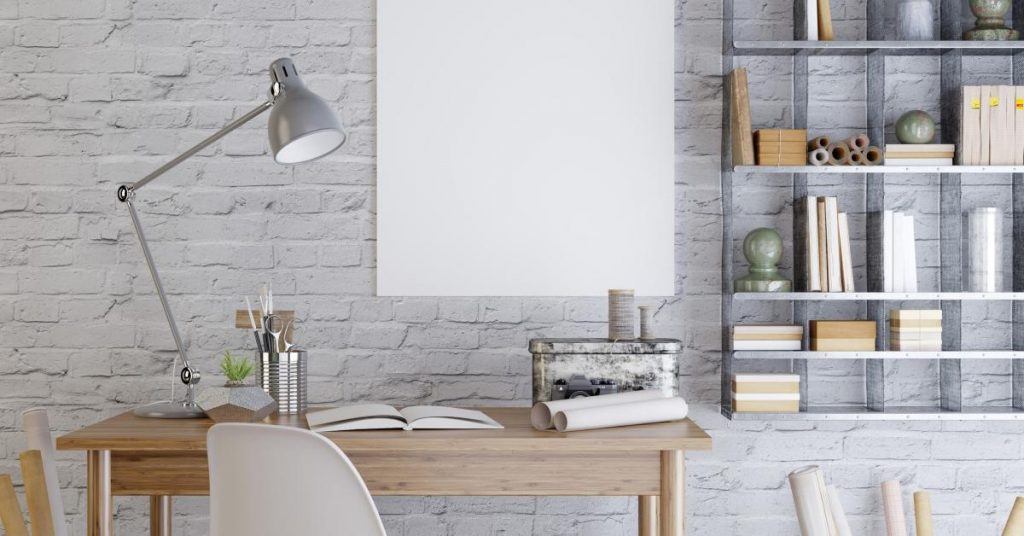 Examples of home office supplies and equipment that can be a game-changer include:
Floating shelves that hang on the walls so you can keep papers, books, and supplies off your desk.
Baskets and cubbies to tame your piles of mail, notebooks, extra cords, and more.
Vertical file folders on top of your desk for important documents.
Laptop riser and/or computer arms to keep the top of your screen at eye level or below while lifted off the desk to create more horizontal space.
Cord organizers to guide them through one entry point behind your desk and keep them detangled.
Tips for Making Your Desk a Peaceful Post for Productivity
Now you've got the big things decided, but the little things matter, too. Just because you have a place to work at home doesn't mean you'll feel motivated to work there. Because this is your office space, not your employer's, you have the creative freedom to play interior designer and make it yours.
Find a Favorite Window
If it's possible given the layout of your desk and home office, arrange your workstation in front of a window you enjoy looking out. Studies have shown that where you choose to work has a more profound impact on productivity and concentration than you might think. As a bonus, extended exposure to natural light can reduce eyestrain, stress, and fatigue throughout the day and even help regulate sleep cycles.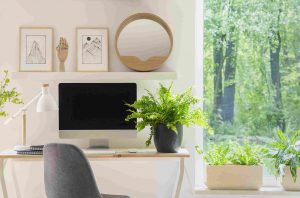 Position your desk in such a way that, when you gaze off into space while thinking, you can at least stare at something more inspiring than a blank wall. Don't decorate in a way that's distracting, but a scenic landscape framed above your desk can be a pleasant view as you glance up from your computer. If you don't have a good window or wall of art, that's OK; add a couple of plants to the room to liven things up.
Decorate Creatively (but Thoughtfully)
Decorating your home office is a great idea, but do so sparingly. A family photo, a few knickknacks, your favorite candle, or a special piece of art can help brighten your workspace and remind you of the people, places, and things you love most. That way, you're motivated to get your work done and walk out of there for the day. Try only to incorporate items that will make you more mindful, not distracted. Rotate your photos and mementos every now and again to keep the atmosphere fresh as you're working from home.
Consider Alternative Arrangements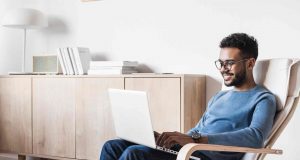 As cozy as your new home office is, you still might want to switch things up. Consider designating different workstations around the house for the tasks that don't require a full office setup. This could be your big comfy chair in the living room where you can focus on writing or your patio where you can enjoy fresh air and sunshine. For those who are fidgety or easily fatigued, standing desks can do wonders for concentration.
Get Down to Business in Your Home Office Space
Choosing how to curate your own home office all depends on the environment that keeps your brain juices flowing during the long workdays. Properly planning around your preferences and tendencies is crucial to your success working remotely.
If you're clearing the way for a home office or seeking business storage for equipment or inventory, self storage units from StorageMart can provide space solutions for a range of needs. Plus, our helpful staff is always available to walk you through the storage process. When you need more breathing room in your personal or professional life, find a storage facility near you today to get started!