This article was contributed by Cristina Miguelez, of Fixr.com, offering cost guides, comparisons, and cheat sheets for hundreds of remodeling, installation and repair projects.
During the last year, thousands of people who previously worked solely in offices suddenly found themselves working from home. And while this situation was temporary for some people, many have found that they will be continuing to work from home on at least a part time basis going forward. This in turn led to an explosion of new home offices, as home-based workers tried to find private, comfortable spaces they could work in.
According to Fixr.com's recently published Home Office Design 2021 report, several factors came to light about the places people are working, and how they're setting these places up. Home storage – both for the furnishings they need to move and for their work items – has suddenly become a hot commodity as well.
Experts in the report weighed in on how to help set up your home office, and make it as comfortable and functional as possible.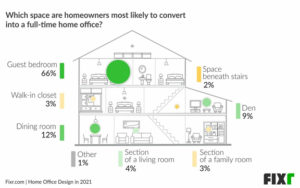 Guest Bedrooms Top Choice for Home Office Conversion
66% of experts found that their clients were designating the guest bedroom as the number one spot to convert into a home office. This makes sense, as guest bedrooms don't get the same amount of use on a regular basis as other areas of the home. And with the right setup, they could still retain that usage in the future as well.
To make the conversion effective, many people may find that they need to remove their current furnishings to make way for the new ones. This may mean storing your current guest bedroom furniture until a later date. This is a particularly good idea for those who plan on returning to work at some point; storing your current furnishings means that you can return the room to its previous use and appearance.
For some, it can also mean investing in new setups, such as pull out couches or murphy beds, so the room can maintain the appearance of a home office long term, while still being used for guests in a pinch.
Setting up the room for office use becomes equally important. Investing in a quality desk, ergonomic chair, and proper office storage were seen as some of the most important pieces in setting up a new, dedicated home office.
Storage Combined with Working Spaces
For those that don't have a guest room to convert, the challenge to find a place to work becomes more daunting. This can be particularly difficult if you need to work in an area that already has a daily purpose. For this reason, many experts recommend combining your work space with a storage solution. This could be something like an armoire that opens into a desk. When you're not working, the armoire closes to disguise your office setup.
Setting up your desk inside a closet is another good solution. The closet can offer some semblance of privacy while you're working. Once you're done for the day, pulling the doors closed allows the room to return to its normal function, without your desk and work belongings taking up needed space.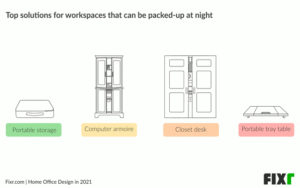 Portable Solutions for Shared Areas
In some households, large-scale desk storage solutions are not possible. When closet spaces don't work and you don't have the room for large pieces of furniture like armoires, other, more portable solutions are the answer. For shared spaces where families need to work and study together, experts recommend things like folding desks, bins for collecting your work supplies, and work trays where you can gather your things, then move them to a new location as needed.
This type of flexible storage is necessary for families that have multiple people who work and study from home. By allowing you to pack up and move to a new location in seconds, you can make sure you always have the privacy and the space you need to get your work done.
Shelving Useful and Decorative
Everyone knows that shelves of all kinds can be a useful way to hold books and other belongings. But in an age of video conferencing, most experts are also recommending things like bookshelves as a background for your video calls. While artwork and blank walls are sometimes also given as acceptable choices, it was shelving that got the most votes.
This can mean that when you're setting up your new office space, you may want to consider not only the placement of your desk but also where you place your room storage. Angling shelves to be behind you, rather than in front can help make your office more functional and more visually attractive on conference calls as well.
Storage Has Become a Major Part of Working from Home
Whether you're shuffling belongings or need a place to store your portable desk, storage was a common theme amongst tips from experts on setting up a home office. For those planning on working from home indefinitely to those who may only use the space for a few months, these tips can help you make the most out of any home office setup, no matter what your storage needs.