At Manhattan Mini Storage, we have been committed to providing easy, fast, and safe space for all New Yorkers since 1978. From our work with charity organizations making a positive difference for those who need it most, to our fun content that is sure to make you look twice, we love sharing our messages with all of Manhattan and we hope you enjoy them as much as we do.
Rent Fast, Easy, and Secure Storage in NYC
Manhattan Mini Storage is very excited to make our Summer '22 Billboard debut. When asked why fast, easy, secure storage was chosen as the theme for the Summer 2022 billboards, Global Director of Marketing for Manhattan Mini Storage, Sarah Little, responded, "Leaning into our commitment to provide a fast and easy rental process was a given – it's what we do. This season we polled our global team of store managers and they had us in stitches. The winning "Prince Andrew" entry came to us all the way from our assistant manager, Simon Dubeau, in the United Kingdom." 
Storage Faster Than…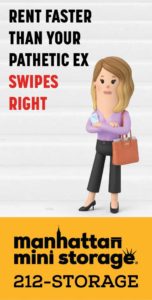 They may be swiping like their life depended on it, but our rental process is quick and easy to save you some heartache – unlike your ex. 

Finish renting your unit before they can say "found them!" 

Gym bros are fast, but our easy rental process is faster! 
Storage Easier Than…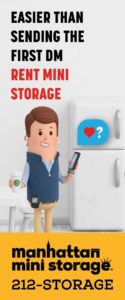 While sending the first DM might seem like the most stressful thing at the moment, renting Manhattan Mini Storage can be the easiest.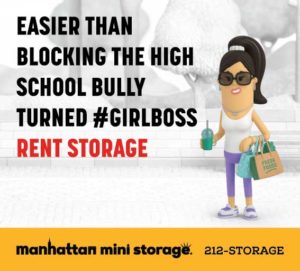 If you thought dodging those MLM messages was easy, you should see how easy it is to rent Manhattan Mini Storage online! 
Storage Safer Than…

Who says protection is a privilege reserved for the 1%? Easily rent secure Manhattan Mini Storage online today. 
Providing Every New Yorker with Space for All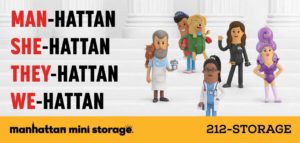 We stand for everyone. We are in this together. We believe in safe space for all. At Manhattan Mini Storage, we're proud to support the LGBTQIA+ community with fast, easy, and friendly self storage solutions at 17 locations throughout Manhattan. 

We won't judge you for what you store – we can't say the same for your dates. 

At Manhattan Mini Storage, we ain't afraid of no ghosts! What really scares us? Any company that would "ghost" NYC customers in search of spook-free self storage solutions and friendly customer service. So, who you gonna call? Manhattan Mini Storage customers use 212-STORAGE available 24/7. 
Charity Partners – Big Brothers Big Sisters America & F.A.S.T.
Manhattan Mini Storage is fortunate enough to be able to support charities through actions such as donations for every review received and providing the space to raise awareness for our partners at Big Brothers Big Sisters of America and F.A.S.T. As national charity partners, we are honored to be able to help these organizations spread their message for all of NYC to see!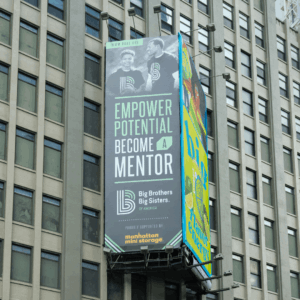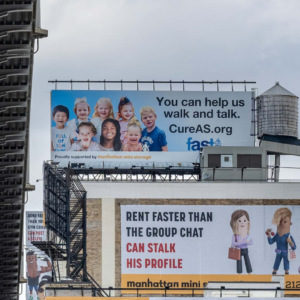 Rent NYC Storage Today
We are super excited for all of Manhattan to see our newest billboards. We hope you love them just as much as we do – or not, we've already put them up. 
If you are searching for easy, fast, and secure storage in NYC, Manhattan Mini Storage is here to provide space for all with 24/7 customer service available. Find the perfect space near you and see for yourself how easy storage can be!