As a longtime supporter of NYC Pride and Manhattan's LGBTQIA+ community, Manhattan Mini Storage is proud to be a #PridePartner and Official Storage Provider for NYC Pride 2022. With festivities, parties, celebrations, and events happening all around Manhattan and surrounding areas for the month of June, you won't want to miss it! 
NYC Pride of the Past
Manhattan Mini Storage has been proud to support NYC Pride for many years. In 2019, with the help of local New York drag performer Yuhua Hamasaki from RuPaul's Drag Race season 10 and Ophira Edut from the Astrotwins, we were able to hold a meet and greet at our Pride booth with the thousands of Manhattanites celebrating PrideFest that year. 
Although the pandemic became a bit of a roadblock for in-person pride celebrations, the spirit of pride never stopped. In 2021, our Manhattan Mini Storage SoHo location became a stop on NYC Pride's PopUp Experience with our bold and colorful window displays.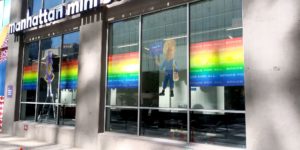 2022 NYC Pride Parade and Celebrations
As the first year back in full force after the three years of modified celebrations, you won't want to miss all the fun events happening throughout June. Events include Pride Family Movie Night on June 15th, the Pride March and the annual LGBTQIA+ street fair on June 26th, as well as many more celebrations around the city all month long. 
Grand Marshalls for the 2022 Pride March will be influencer and trans activist Ts Madison, comedian Punkie Johnson, educator/author Schuyler Bailar, artist Dominique Morgan, and litigator/advocate Chase Strangio. 
If you can't be in attendance of the Pride March, don't fret! You can tune into the live performances and on-air interviews on ABC-7 from 12:00pm to 3:00pm ET on Sunday, June 26 as well on ABC7NY.com, ABC News Live, and ABC7 New York's Connected TV Apps on streaming platforms Amazon Fire TV, Android TV, Apple TV, and Roku. 
For all event details, updates, and other information this Pride Month, be sure to follow NYC Pride on Facebook, Twitter, and Instagram.  
Manhattan Mini Storage Supports NYC Pride 2022
Keep your eye out for Manhattan Mini Storage at Pride events like Family Movie Night and the Pride March, as well as our brand-new billboards all around Manhattan just in time for Pride Month. As we continue our Space for All campaign, we are gladly loud and proud about our support of everyone, especially those in the LGBTQIA+ community.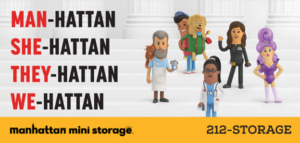 We can't wait to see you there! 
Find
Space for All in Manhattan
As proud sponsors of this year's events and allies to Manhattan's LGBTQIA+ community for more than four decades, we encourage everyone to be unapologetically "you" – not just during Pride Month, but all year round. Whether you need more room to let your true self shine, or you're still figuring out who that person is, we're here for you with safe, convenient storage space for all. Find your ideal space by checking our Self Storage Calculator to find the perfect size and then easily rent online today. Give yourself room for new possibilities today, and have an amazing, safe, and LOUD Pride Month. 
For more information on NYC Pride, follow them on social media and visit their website for details on events and ways to show your support.