As stores and offices shut down for New York State's PAUSE in March, individuals across the city were challenged with how to continue working in new ways. For some, this meant devoting parts of their apartment to a dedicated workstation, for others it meant stocking up on supplies to support curbside pickup. For essential business, like Manhattan Mini Storage, there was a swift shift to enhanced cleaning, modified work schedules for their team, and distributing masks and gloves. But, for someone who coordinates live events for residential buildings, there was no clear path for how to continue business as usual.
Need of Storage
Manhattan Mini Storage customer, Kelly Sullivan, a Lifestyle Director for high-end apartments around the city, found her way forward in her career with the help of her personal storage account. Kelly has had storage since she moved to the East Village three years ago. "[Manhattan Mini Storage] is kind of like my annex," she told us. She mostly uses storage to hold seasonal items. While she occasionally had packages shipped to her storage location, she preferred to have items sent to work, or visit a store to buy what she needed closer to her home.
As someone who is "extremely social" by nature, and by profession, Kelly quickly started to think of ways to bring people together virtually during the pandemic. She developed various online series for residents of the apartment communities she served. To make the experience special, she provided branded physical items to distribute as part of the classes. Kelly ordered branded yoga mats for fitness classes and custom glasses for a Wine 101 series. With each branded item she created, there were several rounds of samples she received before finalizing the designs.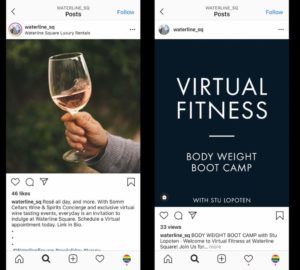 She started having everything shipped to her storage facility, just down the street. "I live in a walk-up building. Specifically, during COVID, packages were getting stolen. And, it kept getting worse." Kelly explained. By using the free package acceptance offered by Manhattan Mini Storage, she could keep working and be confident there was someone to receive her items. The team at her storage facility became like family. "I'm single. I live alone. I went days without seeing people. It was a highlight of my day to see all the lovely ladies there, and they are such a breath of fresh air," Kelly said. "And, they are down to have a nice personal conversation too. It's everything."
Grand Opening Celebration
On June 11th Kelly was supposed to have had a grand opening party for one of the properties she works with, Waterline Square.  The event had the largest budget she's ever been allotted for something like that, but it was cancelled. "I would much rather be throwing my soiree with my gorgeous Valentino gown." But, she explained, given the circumstances she's very thankful storage was able to help her keep working, "I'm still doing my job. And, giving people what they need."
---
The products, prices, and available services mentioned in this video do not reflect our current offerings.