Self Storage Units in West Sussex, UK
Whether you're in the middle of a move or are looking to downsize, self storage can help make the process easier. At StorageMart, we provide a wide selection of storage options and advanced features that will make the storage process hassle-free. Browse our storage units in West Sussex to get started. Find affordable self storage at convenient StorageMart locations when you rent online today!
A

5 Durban Road

Bognor Regis, ENG PO22 9RZ

24 Hour Access Available
No Deposit
Quick & Easy

B

Unit 2, Ham Bridge Trading Estate

Willowbrook Road

Worthing, ENG BN14 8NA

24 Hour Access Available
Clean
Convenient Location

Free Extended Access Hours

Low Monthly Rates

No Deposit Required
Self Storage Facilities in West Sussex, UK
The coastal county of West Sussex brings outdoor recreation, arts festivals, and an appreciation for music. With many activities in West Sussex to keep busy, it's no surprise that West Sussex residents and business owners find themselves looking for additional storage space. At StorageMart, we offer both commercial and residential storage solutions in West Sussex. Find the nearest StorageMart storage facility to you and reclaim your space.
When you need a secure place to store overflowing business inventory or seasonal clothing and décor, we have you covered at StorageMart. Our storage facilities in West Sussex are conveniently located near major highways including A27, allowing easy access from different parts of the county. Additionally, our West Sussex storage facilities are spread out throughout the county, allowing you to find one near you.
Storage Features in West Sussex, UK
At StorageMart, we're committed to providing convenient, affordable storage solutions. Whether you're a business owner or a local resident, we have a wide range of storage features that can help add layers of security to your belongings. We also do our very best to provide you with the most convenience at StorageMart, such as with our month-to-month leasing options enabling you to only rent storage when you need it.
With modern storage features including gated access, traffic into our storage facility is limited to our customers and employees. To access our storage facility during our extended access hours, all you'll need is your unique PIN. We also offer ground-level storage units, allowing you to access your storage unit easier and faster.
Other features of storage in West Sussex includes:
Extended access hours

Low monthly rates

No deposit required

Gated access

Fully fenced facility

Packing and moving supplies

Trolleys

Well-lit facility

Online payments

Digital video recording
Self Storage Units for Rent in West Sussex, UK
Free up space in your home or business and find your storage unit at StorageMart in West Sussex. Our storage units are available in several different sizes, allowing you to store a wide variety of storage items. Our smaller storage units are comparable to the size of a closet, while our larger storage units are similar to that of a large garage.
Unsure what size of storage unit would be the right fit for you? Browse our
unit size guide
for additional information. We also have packing and moving supplies available to help make the moving process easier. Ready to get started? Find the nearest storage facility to you to rent or reserve your storage unit.
Experience the convenience self storage provides in West Sussex
StorageMart's spacious and affordable self storage units make it easy for people in Sussex to find a place for their belongings to call home.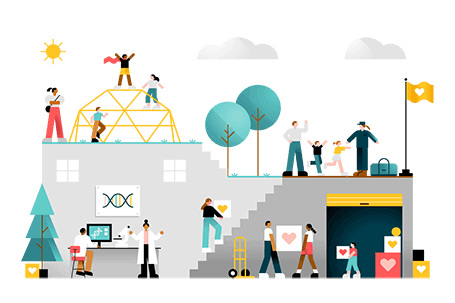 Charitable Giving at StorageMart
Every year, we donate free rent to numerous local charities who are working to make a difference in the many communities we call home. We also donate to charity partners across the globe to support causes that make our world a better place.
StorageMart supports these local charities.