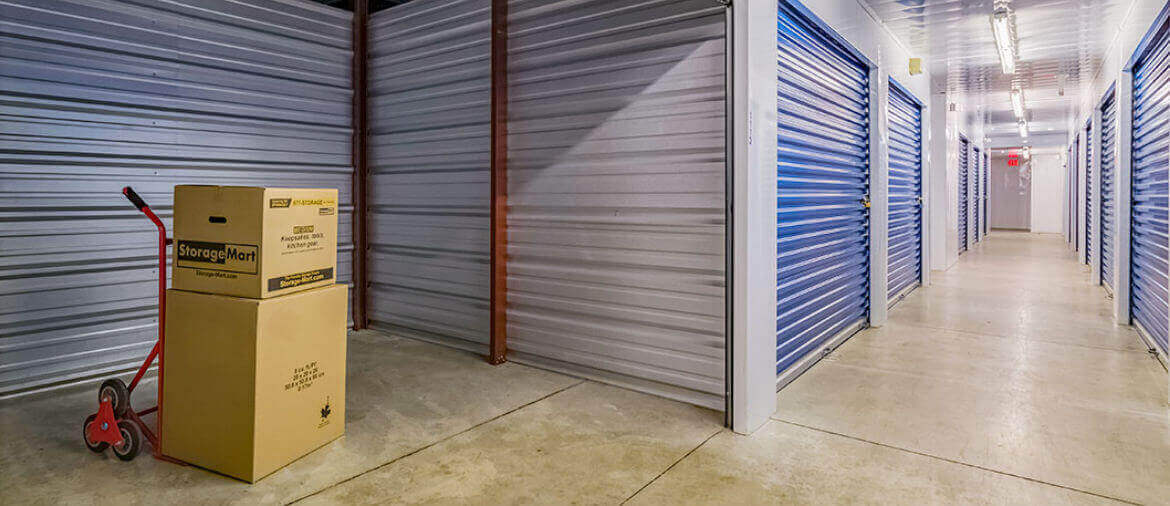 What Are Climate Controlled Storage Unit?
Simply put, climate controlled storage is heated during the winter months and kept cool in the summer to maintain a more constant, moderate temperature throughout the year. Why is this important? Many items are susceptible to damage from prolonged exposure to changes in temperature. Temperature controlled storage units provide customers peace of mind, knowing their storage unit – or the important things inside – won't become too hot or too cold.
What Items Need Climate Control Storage?
Temperature controlled storage units are the ideal option for just about anything, but they're more necessary for some items than for others. That's because climate controlled storage removes dust and foreign matter from the air and keeps your items cleaner and fresher. You can also help prevent dust from settling on your furniture by using mattress and sofa covers or laying blankets and tarps over items if you're storing for more than four months. Some of the most ideal items to keep in a climate controlled storage unit are:
Furniture

– Wooden furniture can dry out, shrink, or even crack if it's allowed to get too cold or swell and warp in hot temperatures. Upholstered furniture is prone to mold and mildew if kept in hot temperatures over long periods of time. And leather furniture is equally susceptible to drastic fluctuations in temperature when stored year-round in a non-climate control storage unit.
Electronics

– Everyone loves their gadgets. If you must store any of your precious electronics, including

analog stereo equipment

, or even your

vinyl record collection

, climate controlled storage will help protect those delicate items from extreme heat and cold. This includes all household appliances as well. Why is this? Extended exposure to extremely hot or cold ambient temperatures can accelerate wear on plastics, transistors, rubber seals and gaskets, or other critical components of your electronic devices.
Art

– Paintings, drawings, photographs, and

picture frames

are particularly prone to damage from exposure to excessively hot or cold temperatures. Stamps, sports cards, and comic book collections should also be kept in climate controlled storage to help preserve their condition.
Musical Instruments

– Fine music is best made with well-maintained instruments. Temperature controlled storage can help prevent warping, cracking, and rotting of your instruments.
Documents

– Archived records and documents are often irreplaceable and one of the greatest enemies of stored paper is unstable temperatures. Hot temperatures can warp leatherbacks and can cause rapid deterioration of your

book collection

.
Textiles

– Clothing and bedding are among the most commonly stored items in climate controlled storage units. Self storage makes it easy to free up space in your home by allowing for seasonal clothing, blankets, and quilts to be rotated in and out as needed. Ensure those items are not exposed to extreme temperature change by renting temperature controlled storage.
What is the Difference Between Heated and Climate Control Storage?
If you haven't rented self storage before, you might think the only option to consider is what size unit you'll need. But there are actually a number of options to consider when choosing a storage unit, with one of the most common choices being between a heated unit and a climate control storage unit. While both storage unit types are heated in the colder months, only a climate controlled storage unit is both heated and cooled as needed year-round.
If you're planning to store durable items like outdoor yard tools or anything else that is intended to be used in a range of temperatures, non-climate controlled storage could be the right choice for you. But if your list of storable items includes things like vintage or modern video games, household appliances, important paper documents and photos, or even your seasonal wardrobe, you'll be glad you went with a climate controlled storage solution that maintains a much more consistent temperature all year long – no matter what Mother Nature is doing outside.
Intending to store a mix of delicate and durable items? For best results and peace of mind, we always recommend climate control storage over standard storage units. This way, you can rest assured that your one box of delicate items will benefit from the added protection of a more stable, year-round temperature.
Rent Temperature Controlled Storage Units Online Now
Standard storage units are great for many self storage applications, but temperature controlled storage is an increasingly popular and common option customers tend to prefer – especially when storing anything sensitive to extreme heat and cold. Because they are desired, these units are often priced higher than normal, non-climate control units. So be sure to reserve your climate controlled storage unit online now so it's available when you want it.
Not sure what size you need? Let our handy, dandy,
Self Storage Calculator
do all the hard work for you. When you're ready, find a climate controlled unit in the
storage location near you
, and rent it online today for our best prices – guaranteed. Remember, all our locations offer secure access and video monitoring, plus there are no long-term contracts or minimum stays. Just easy, clean storage and great service – every time.
Friendly self storage experts are available on-site during business hours or by phone 24/7, so reach out with any questions about how to rent.
Climate Controlled Storage in the United Kingdom
KENT
FIND A STORAGEMART FACILITY NEAR YOU!
More Storage Advice from Our Experts
We've been providing storage solutions for decades and we've picked up a few tricks along the way. Learn more about how to get the most out of your self storage unit rental.
After you've signed your self storage lease and you're ready to move in, check out our tips on the best way to organize your unit.
Before calling or renting self storage online, look at the most commonly asked questions customers have.
Planning a move? We can help you relocate with self storage and ease some stress.
After you've signed your self storage lease and you're ready to move in, check out our tips on the best way to organize your unit.

Before calling or renting self storage online, look at the most commonly asked questions customers have.

Planning a move? We can help you relocate with self storage and ease some stress.