Self Storage Units in East Sussex
When you need more space in your Brighton business or want a good place to store your belongings while renovating your Uckfield home, StorageMart of East Sussex can help. We provide storage units that are well suited for both residential and business uses as well as for students at the local colleges and universities. Find affordable self storage with month-to-month leases at StorageMart!
A

Chapel Road

Portslade

Brighton, ENG BN41 1PF

24 Hour Access Available
Covered Loading Bays
Ground Floor Access

B

Ingleby House

Crowhurst Road

Brighton, ENG BN1 8AF

24 Hour Access Available
Convenient Location
Drive-in Loading Bays

Free Extended Gate Access

Low Monthly Rates

No Deposit Required

C

Unit 9 Freshfield Industrial Est

Stevenson Road

Brighton, ENG BN2 0DF

24 Hour Access Available
Convenient Location
Short Term Leasing

E

7 Ridgewood Industrial Estate

Ridgewood

Uckfield, ENG TN22 5QE

Clean
Free Extended Gate Access
Short Term Leasing
Self Storage Facilities in East Sussex
East Sussex is a beautiful county in the south of England highlighted by the many beaches and resorts that line the English Channel. The most well known is Brighton Beach in the city of Brighton and Hove. With activities on the piers, beaches aplenty, and tons of shopping opportunities, Brighton certainly lives up to its reputation as a premier resort community.
At StorageMart of East Sussex, we provide premium storage units at affordable rates to help you with your storage problems. Whether you're a student looking to stow away some things at semester or a business owner looking to maximize your office space, we have an East Sussex storage unit that works for you. We have several storage facilities throughout East Sussex, including:
Storage Features in East Sussex
At StorageMart, we design our facilities with several features to make your time with us even more convenient. For example, many of our storage facilities offer drive-up access units or covered loading bays. These two designs make it easier to move your belongings from your vehicle and into your unit. With drive-up access, you'll be able to transfer your belongings directly between your car and the unit. Covered loading bays, meanwhile, help you get closer to your interior unit while letting you get out of any inclement weather.
Student Storage in East Sussex
Students at the University of Sussex and the University of Brighton have enough to think about as is, so don't let storage space be added to your list of worries. If you need a place to keep your belongings between semesters or just need some additional space for your dorm room, StorageMart can help with
student storage in East Sussex
. We offer month-to-month leases that won't lock you into a long-term contract as well as convenient storage locations around Brighton and Hove that will make retrieving your possessions a breeze.
Self Storage Units for Rent in East Sussex
If you need more storage space for your East Sussex home or business, come to StorageMart. We provide top-quality units at reasonable prices. If you want advice on maximizing your space, we also have
storage tips
that can help you through the process. Find an East Sussex storage facility near you and get started today.
Explore All the Benefits of Using East Sussex Storage
StorageMart's affordable storage options, backed by first-rate customer service, improve the quality of life for people in Sussex.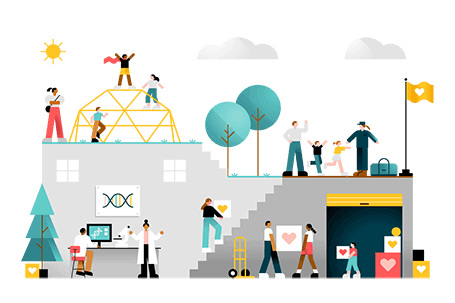 Charitable Giving at StorageMart
Every year, we donate free rent to numerous local charities who are working to make a difference in the many communities we call home. We also donate to charity partners across the globe to support causes that make our world a better place.
StorageMart supports these local charities.